Jim Bausch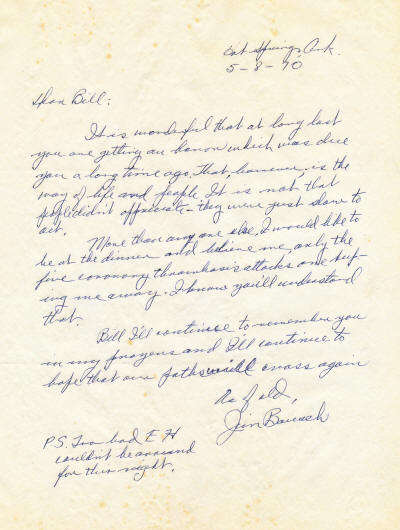 Letter
Hot Springs, Ark.
5-8-70
Dear Bill:
It is wonderful that at long last you are getting an honor which was due you a long time ago. That, however, is the way of life and people. It is not that people didn't appreciate - they were just slow to act.
More than anyone else, I would like to be at the dinner and believe me, only the five coronary thrombosis attacks are keeping me away. I know you'll understand that.
Bill, I'll continue to remember you in my prayers and I'll continue to hope that our paths will cross again.
Regard,
Jim Bausch
P.S. Too bad E H couldn't be around for this night.
Note: James Aloysius Bernard Bausch, a.k.a. "Jarring Jim" (March 29, 1906 – July 9, 1974) was an American athlete who competed mainly in the Decathlon.
Bausch went to college at the University of Kansas. Bausch, lettered in football, basketball and track. "Jarrin' Jim," considered by some to be the best athlete in KU's history, participated in track from 1929 to 1932. He broke the decathlon world record by scoring 8,462 points in the 1932 Los Angeles Olympics.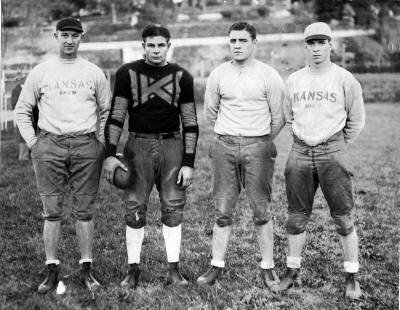 In 1932, Bausch received the Sullivan Award as the best amateur athlete in America. In addition to track, he was also a tremendous talent in football, being inducted into the National Football Hall of Fame in 1954.
Right photo, left to right: Dr. Forest C. Allen, University of Kansas athletic director; Jarring Jim Bausch, the Jayhawkers' star back, and H. W. Hargiss, coach. The Kansas team worked out at Soldiers' field yesterday. It was en route to Philadelphia, where it meets the Penn eleven tomorrow. [TRIBUNE Photo.]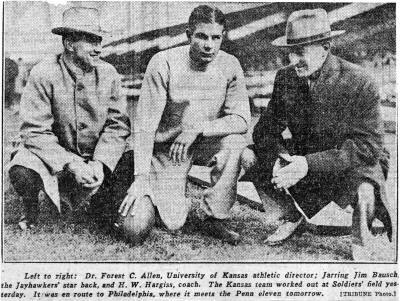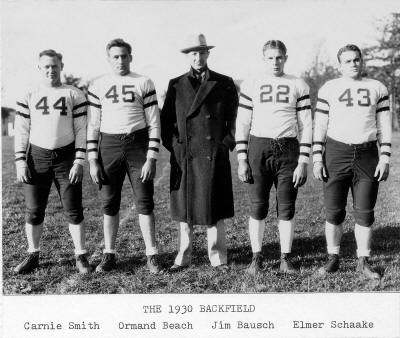 Carnie Smith, Ormand Beach, Coach Bill Hargiss, Jim Bausch, Elmer Schaake