Hargiss and Sports at KSN 1905-1909
from "For the Sport of It" by Fred A. Markow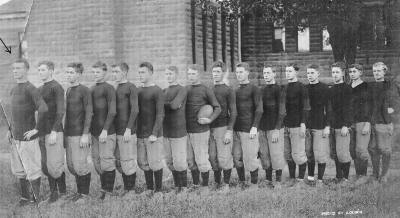 itz, 1963
Bill Hargiss stands as captain of his football team on the far left in this updated photo at KSN.
In 1905 and '06, Samson's teams chalked up identical 4-4 records. The year he was away, 1907, was not a good year, record-wise. Owen Samuel inherited an inexperienced squad that year. Bill Hargiss was about all he had to build his team around. K.S.N. won only one game in '07, and lost six, but at the end of that season, Samuel had the Normal squad well-drilled and ready for the 1908 schedule. The Normalites improved their record under Samson in '08, winning three and losing five.
During these years, modern football began to emerge at the Normal, and so did modern football players. Bill Hargiss was one of these. He was a student of the game. Owen Samuel, who coached him in '07, comments: "Bill loved football with a passion and practiced every single facet of the game with the idea of perfecting it. He was like that in everything he did. He was always the first one on the practice field and the last to leave. And he knew how to train himself—he was always hard as nails, in top physical condition."
Alfred Hill, who was playing football at Emporia High School while Hargiss was performing in athletics at the Normal, writes: "Bill Hargiss stood out, and still does, in my opinion, as the greatest of all Emporia State athletes. Certainly his individual performance in football and track place him as the first of the early greats."
J. Robert Steel, now of Bedford, Ia., who was a track letterman in 1912, and who was a high school freshman in the Normal Secondary Training School during Hargiss' playing days, adds: "I watched Bill play a lot of football and never did I see anyone stop him before he reached the line of scrimmage. He was a real fullback."
The State Normal Bulletin of September 21, 1906, carries a detailed account of the Normal's first game of the '06 season with Friends University, which the Emporians won 11 to 0. Bill Hargiss' versatility on the gridiron, as well as his proficiency as an orator, is reflected in this excerpt from that account:
"Hargiss kicked off to the Friends' 5-yard line. They returned it 20 yards. The Friends punted 30 yards. The Normal made its distances three times without punting before Hargiss footed the ball 35 yards. The Friends returned it four yards, and tried a quarterback kick of 17 yards. The ball was advanced five yards before the man was downed. Here the Friends fumbled the ball, and when the rush for it was over, Johns, of the Friends, was found in the bottom of the pile with the ball in his arms.
"Hargiss was given the ball, and after making 50 yards, his interference tried to persuade him that he had gone far enough. They failed to do this, however. Captain Forde and Waldorf were assisting the gentleman along, and it was this interference that was responsible for his fall, as the Friends were not near enough to tackle him. When Hargiss found out what was the matter, he delivered an oration which contained several emphatic words . . . .
"The second half began with Hargiss kicking off 50 yards. Friends returned the ball 25 yards. Hargiss collided with the Friends' fullback and that gentleman thought best to take a breathing spell . . . . They made a gain of five yards and tried a forward pass but forfeited the ball. After a few more linebucks the most brilliant play of the day was made. (Ira) Bright kicked 35 yards to Wells who caught the ball and headed for the goal post 50 yards away at a pretty lively gait. He was reposing gracefully on the ball, behind the goal posts, before the Friends were really aware of what had happened. Hargiss kicked goal."
The testimony to Bill Hargiss' greatness as a football player and all-around athlete could go on and on, but he would not permit that, because he knows, as all truly great athletes do, that the acclaim he has received does not belong to him alone. It must be shared with Bill Waldorf and Ed Forde, two tough linemen who ran interference for him on many a touchdown gallop before and after the day they accidentally tripped him in the game with Friends. It must be shared with his brother, Leonard, who taught him a lot of football and played beside him at the Normal. It must be shared with Paul Samson and Owen Samuel, who coached him. It must be shared with all those he played with at the Normal from 1905 through 1908, such men as Ray Gist, Miller "Jumbo" Hyndman, Otto Honska, Morris "Curly" Wells, Bill Sterba, Ira J. Bright, R. V. Bottomley, Walt Appletrad, Ernest Dunlap, George and Bert Hensley, Orin Rhine, the Roark boys, Earl Mulvaney, W. R. Campbell, Aubrey Douglass, and Dan Peterson. Bill Hargiss would name more, many more. That their names do not appear in this very sketchy volume certainly does not lessen their importance to him. Nor does it lessen their contribution to the athletic heritage of Kansas State Teachers College.
He was an outstanding track star at the Normal in his playing days, and he developed championship track teams at K.S.N. in seven of the 13 years that he served as the school's head coach. One of his greatest moments as a track athlete occurred in 1908. Alfred Hill recalls that moment: "Never can I erase from my memory the finish Bill made as an anchor man on the mile relay team. Taking the final lap against Fairmount, Bill was more than 50 yards behind. He had been busy in the hurdle and race events through a long afternoon, so Emporia's chance in this event seemed hopeless. As the runners came into the finish stretch there still seemed to be no chance, but Bill exerted a tremendous burst of speed and shaded into victory, exhausted."
D. T. "Dave" Wooster, now of Minneapolis, Kan., who starred on Normal baseball and basketball teams from 1909 through '12, was a ninth grader in the K.S.N. secondary school when Bill Hargiss came to the Normal. He contributes this exclusive on him: "Bill was taking part in an inter-class track meet one day during his freshman year. He entered almost every event and was doing well. When the meet was about two-thirds over, I saw him go around under the grandstand. Kid-like, I followed him, and there he was, doubled over a stored hurdle, losing his dinner. He swore me to secrecy, which I have kept for fifty-five years."