Bill Hargiss in College, 1905-1909
Kansas State Normal, Emporia
In 1901 Leonard left to attend the Kansas State Normal and was soon followed by Bill, Bob, and Meade. Four of the five Hargiss boys graduated and played on the Normal team, the "Yellow Jackets."
Bill played football, basketball, was active in track and was the regular first baseman in baseball when a game did not coincide with a track meet. He played fullback on the football team, center on the basketball team, first base in baseball and could double in most of the track events. Hargiss also participated in gymnastics and boxing and was named a captain five times. He was a 4 year letterman in football, basketball and track, earning 16 college athletic letters while at Kansas State Normal (Emporia State).
Hargiss was not only a great athlete. He also sang in the glee club, he was in the debating society, a member of Delta Chi, and he took a course in watercolor painting. In addition to all this, he worked to pay his own way, waiting tables for $2.25 a week, which paid for his board, and later had a laundry route.
Hargiss was a regular Saturday night attendant at "Dr. Iden's Upper Room." Dr. Iden was a teacher of chemistry and physics and the upper room was a hall above the Emporia Gazette which William Allen White gave for his use. The practical, personal talks on ethics and character were attended every week by 300 to 400 college men.
Bill Hargiss graduated from the Normal in the class of '09 with a BSE degree.
Hargiss playing sports at KSN - from "For the Sport of It"
Bert Drake, a KSN alumnus, speaks about Bill Hargiss in College during a recognition dinner on May 28, 1978.
Bill Hargiss 1905-1909 MP3 audio file: Bill and his daughter Genevieve converse about his college years (23 minutes); recorded in Topeka ca. 1963.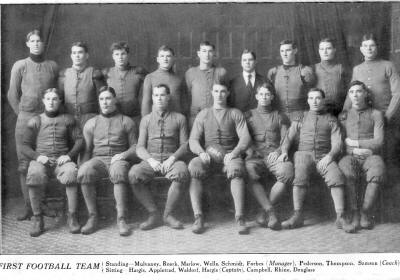 KSN Football, 1908

Standing - Mulvaney, Roark, Marlow, Wells, Schmidt, Forbes (Manager), Pederson, Thompson, Samson (Coach).
Sitting - Bob Hargiss, Appletrad, Waldorf, Bill Hargiss (Captain), Campbell, Rhine, Douglass.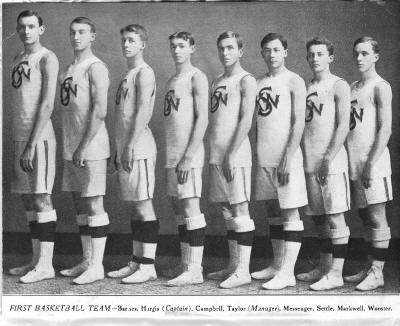 KSN Basketball, 1908

Barnes, Hargiss (Captain), Campbell, Taylor (Manager), Messenger, Settle, Markwell, Wooster.
Team reunion in 1963 Article from KSTC Alumni News December 1963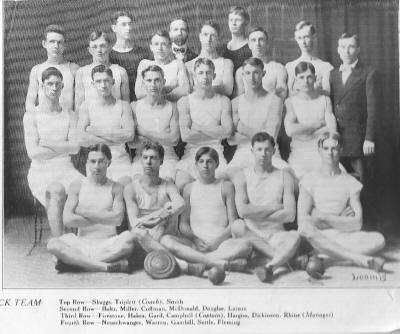 KSN Track and Field, 190x
Top row - Skaggs, Triplett (Coach), Smith
Second row - Baltz, Miller, Coffman, McDonald, Douglas, Larson
Third row - Firestone, Hakes, Gard, Campbell (Captain), Hargiss, Dickinson, Rhine (Manager)
Fourth row - Neuschwanger, Warren, Gambill, Settle, Fleming