Bill Hargiss after the War, 1946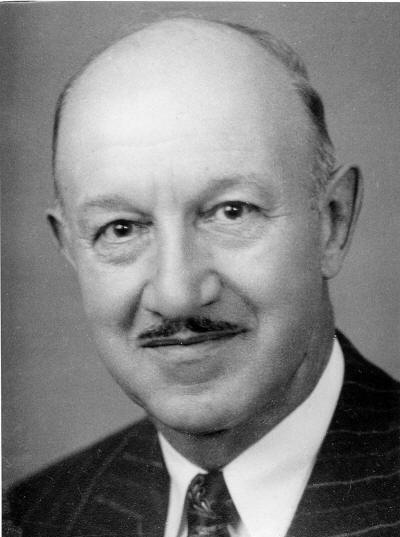 Note by Genevieve Hargiss:
The war was over when Bill went to Hawaii. He knew that the assignment was only for a short term, but he wanted it very much. He believed athletics to be particularly important to armed services personnel who were in the unsettled state of waiting to be discharged. He had written a letter to the athletic board at KU, asking that his leave of absence be extended until the war department dismissed him. There was no answer, so he went to Hawaii anyway. While he was there he received a curt cablegram from the chancellor saying that his position would be filled by someone else unless he returned immediately. Bill's temper was usually under control, but when it did flare it was horrendous. This was one of the times. In a surge of what he considered to be justifiable anger at the tone of the cablegram, he fired an answer right back, telling the chancellor what he could do with the position--in as explicit terms as could be sent by cable. However, he knew that it was not actually the chancellor who had engineered the denial of his request but another administrator who saw this as an opportunity to be rid of someone who had never danced like a puppet to his tune.
Bill had been through some bad experiences at KU and did not really want to go back. In later years he insisted that he had no regrets about blowing-up his job there. Nevertheless, when he came home in the spring of 1946, he found that it was not easy to get work, although he looked in many directions. Younger men were being discharged from military service and taking almost all of the available jobs. Also, women had entered the work force in droves during the war, and many of them did not want to leave it now. Bill had an offer to teach at the University of Zurich in Switzerland, but he would not be able to take his family with him, at least not right away. He did not choose to take a chance on how long he would have to be away from them. They settled in Topeka, and the money they had saved from Bill's service pay did not last long.
In Topeka, Bill worked for a few months in a government office. He did not tell his children much about this, but we suspect that his duties were little more than answering the telephone and relaying messages between the State government and Washington. At home, Vera helped with living expenses by taking every private piano pupil she could get.
Sometime during the first half of 1947, Bill went to work as a traveling salesman for the Enterprise Wholesale Company in Kansas City, a distributor of household appliances. His territory was northwestern Missouri and northeastern Kansas, where he called on dealers regularly to demonstrate appliances to their customers and take orders. (His best seller was a spin-dry washing machine.) He could still keep his home in Topeka and be there most weekends. Vera told us that when Fridays came around he would head for home, even though he sometimes had to drive great distances to get there. She did not demand this; the compulsion was Bill's. Most of his dealers were in small towns, and the hotel accommodations were undoubtedly bleak. The main reason, however, that he hated this job was that he did not like to be away from his home and away from Vera as much as it required. Yet, it was a living, and he stuck with it for several years.
In 1951 he was invited to join the Town and Country Real Estate Company as a salesman. This allowed him to be at home more, but he did not do as well financially as he had expected. He was worried, but it was not his nature to be despondent. On the plus side, he made many lasting and loyal friends during this period. Bill's and Vera's daughter Shirley lived with them in Topeka during the school year of 1951-1952 and commuted to KU for graduate courses. In retrospect, she writes as follows:
"Dad was selling real estate during the winter of 1951-1952. Because of that, I was asked to sing at the state real estate convention. I made a parody on Rosemary Clooney's song "Come On A My House." It went "Come On A Buy-A House." I remember how easy it was to sing with Dad smiling in the audience."