Bill Hargiss at the Jayhawk Celebrity Golf Classic, 1978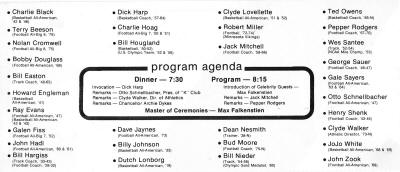 Banquet banter barometer of banked bucks
By Bill Mayer, L J-W 5/16/1978

Athletic director Clyde Walker told Monday night's Jayhawk Celebrity Golf Classic banquet that "I'll be in favor of any event, any day in the week, any time of the year, that raises $15,000 for the program."
That's what the Alvamar Hills project produced, with KU friends and alumni paying for a round of golf and fellowship with Jayhawk sports personalities to boost the scholarship fund. The evening banquet at Lawrence Country Club was attended by over 200, and the quips and anecdotes flowed freely before, during and after the program.
With Max Falkenstien handling the master of ceremonies job and lettermen's club president Otto Schnellbacher handing out plaques and other awards, the humor came thick and fast.
FORMER KU football-track coach Bill Hargiss, now 91; ex-Jayhawk star-athletic director Dutch Lonborg, semi-retired, and veteran trainer Dean Nesmith were singled out for special mention among the numerous celebrities.
Hargiss used a Bible passage to point out that "the future is a wonderful thing, it comes one day at a time, and that's how I take things — I'm just grateful for this wonderful day."
Nesmith got the audience guffawing when he recalled some of the hi-jinks of former KU athletes and said one of the things for which he will be eternally grateful is that the rollicking,
good-time-loving Bill Nieder (shot put) and Bob Douglass and John Zook (football) "weren't all here at the same time."
Former football coaches Jack Mitchell and Pepper Rodgers, now of the Wellington News and Georgia Tech respectively, kept things lively with their off-the-cuff rips.
Mitchell said that after he left KU in 1966, he attended a high school wrestling match in which his son was involved. He said a woman on the sidelines pointed to the boy and remarked that
"he's the son of that guy who got fired as football coach at Kansas, and now they got a guy up there who can't count."
THE JIBE was at the infamous 12th-man incident that cost Rodgers' Jayhawks victory in the January, 1969, Orange Bowl against Penn State. KU had an extra man on the field on a conversion play, Penn State got another chance and won by a point.
Never at a loss for a quote, Rogers retorted: "I'll tell you what kind of a coach Mitchell was — when I came here, Bobby Douglass (eventually an All-America quarterback under Rodgers) was playing fullback." Pepper explained that he "purposely devised" the 12th-man incident to get people to forget that his 1967 team lost 30-15 to Ohio — "that's Ohio U., not Ohio State," he stressed.
• Charlie Black
(Basketball All-American; 42 & '46)
• Terry Beeson
(Football All-Big 8, '76)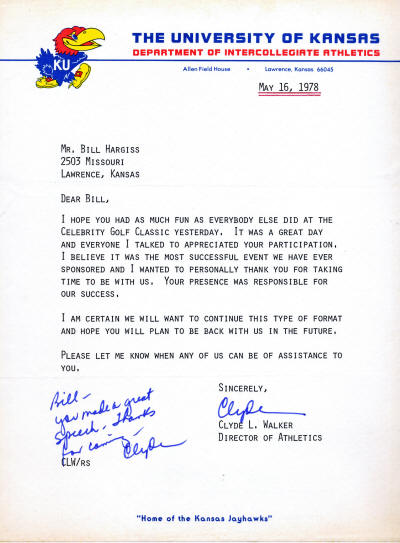 • Nolan Cromwell
(Football All-Big 8, '75)
• Bobby Douglass
(Football All-American, '68)
• Bill Easton
(Track Coach, '48-65)
• Howard Engleman
(Basketball All-American, '41)
• Ray Evans
(Football All-American, '47) (Basketball All-American, '42 & '43)
• Galen Fiss
(Football All-Big 7, '52)
• John Hadl
(Football All-American, '60 & '61)
• Bill Hargiss
(Track Coach, '33-43) (Football Coach, '28-32)
• Dick Harp
(Basketball Coach, '57-64)
• Charlie Hoag
(Football All-Big 7, '50 & '51)
• Bill Hougland
'Basketball, '50-52)
(U.S. Olympic Team, '52 & '56)
• Dave Jaynes
(Football All-American, '73)
• Billy Johnson
(Basketball All-American, '33)
• Dutch Lonborg
(Basketball All-American, '19)
• Clyde Lovellette
(Basketball All-American, '51 & '52)
• Robert Miller
(Football, '72-74) (Minnesota Vikings)
• Jack Mitchell
(Football Coach, '58-66)
Max Falkenstien
• Dean Nesmith
(Trainer, '38-N)
• Bud Moore
(Football Coach, '75-N)
• Bill Nieder
(Track, '54-56) (Olympic Gold Medalist, '60)
• Ted Owens
(Basketball Coach, '65-N)
• Pepper Rodgers
(Football Coach, '67-70)
• Wes Santee
(Track, '52-54)
(NCAA Mile Champ, '53)
• George Sauer
(Football Coach, '46-47)
• Gale Sayers
(Football All-American, '63 & '64)
• Otto Schnellbacher
(Football All-American, '47)
• Henry Shenk
(Football Coach, '43-45)
• Clyde Walker
(Athletic Director, '73-N)
• JoJo White
(Basketball All-American, '68 & '691
• John Zook
(Football All-American, '68)