Bill Hargiss' Last Football Game, 1978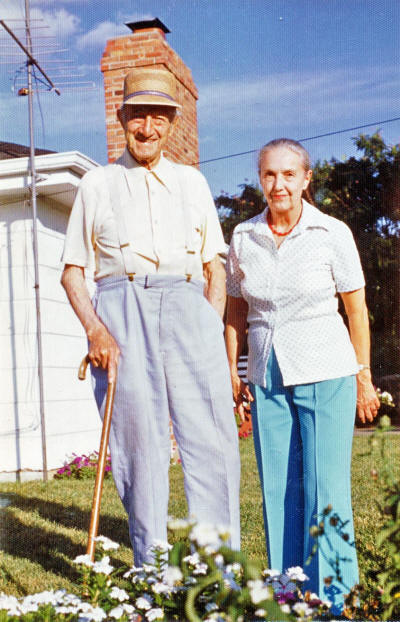 At the time of the "Celebrity" banquet in May 1978, Bill was scheduled to have abdominal surgery in June at St. Luke's Hospital in Kansas City. Gen was not planning to teach that summer. Bill came home at the end of June and spent July recuperating.
In August Bill was able to take care of his flowers and tomatoes. He seemed to be feeling about as well as he had felt at anytime during the past year. This picture was taken toward the end of August by his gardening assistant Mark McBride, who was a graduate student at KU. This is the last picture we have of Bill.
On September 1, 1978, Bill called his daughter Gen at school in mid-morning to say that Jody Hankammer had just called from Topeka and wanted them to come over as soon as possible. It turned out to be a lunch party to celebrate Bill's 91st birthday. Sister Vetra had come from Salina and cousin Peg from Pittsburg (Kansas). Vetra brought him a cake with one big candle in the center. Bill said it was the only birthday cake he had ever had.
Theno Graves and his wife Jo attended the K Club dinner with Bill and Gen on Friday evening, September 22, and also the KU game on Saturday afternoon, September 23. This was Bill's last football game.
On October 15, 1978, H. W. "Bill" Hargiss passed away at the age of 91.
Emporian come home for Final Rest
Bill Hargiss' family:
Parents - Thomas and Nancy Hargiss.
Wife - Vera Strickler (1888-1955) and her family
Children -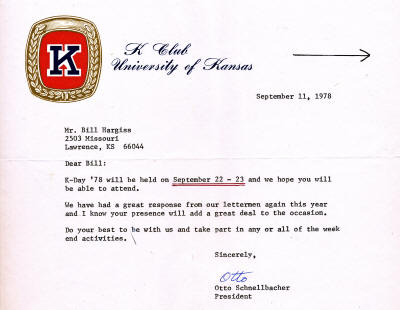 Genevieve (1912-1995), Woodson (1916-1920), Clarke (1924-2004), Shirley (1926-)