Bill Hargiss - Early Use of the Forward Pass and Halfback Pass Option Plays, 1910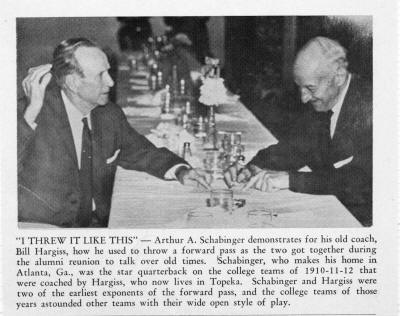 The modern overhand Forward Pass was employed in 1910 by Bill Hargiss as an integral offensive football weapon:

Others might lay claim to very early use of the forward pass upon its legalization in 1906 but the forward pass in football was rarely used --as a last resort or long yardage play. In 1906 the rules allowed one forward pass each scrimmage. There was no such thing as an incomplete pass in the modern sense. If the passer overshot his mark and the ball dropped to the ground it went to the defensive team. Early throwers hadn't learned the spiral throw technique with the non-streamlined ball and passed the ball with two hands like a basketball.
Bill Hargiss, had an unusually talented thrower, Arthur A. Schabinger, at QB in 1910 at the College of Emporia (C of E), and changed football, establishing the forward pass as a definitive offensive play. Art Schabinger was intelligent, could throw accurately, and could handle the ball deftly. In those days players with that skill set were hard to come by. Bill Hargiss called "Schabie" the finest T QB he ever coached. Fran Welch (in his testimony below) called Schabinger his "great all-time, all-American QB". Hargiss at the C of E began using the forward pass as a regular play according to modern day methods and is also likely the earliest to introduce the option pass play, using several throwing halfbacks he developed.
The season of 1910, the first year that Hargiss coached at C of E using QB Schabinger and the forward pass, also produced the first winning season ever for C of E. In 1911, Arthur Schabinger was selected captain of the All-Kansas team - the highest football honor in Kansas. Hargiss coached at C of E 1910-1912 (before leaving for KU) with an impressive overall 17-6-1 record. This record supports an extremely effective, sustained forward passing offense, first revealed in 1910.
Below are statements from two players on the C. of E. football team of 1910 that threw a stunning forward pass against Washburn Univ. There is audio testimony from Fran Welch stating first hand experience of Schabinger throwing the ball "all over the field". Also, an article by E. T. Lowther, Sports Ed, that points out this usage was as dramatic in their small league as was Notre Dame's pass against West Point three years later.
Alfred G. Hill (b1893; football player, college official, and publisher) writes in a 1954 KC Star column, "That College of Emporia victory over Washburn was an upset in our small league. ... I can remember the underhand passing prior to 1910 but the College of Emporia passing was overhead in strict accordance with modern procedure."
Articles:
"I threw it like this" Arthur Schabinger, the quarterback throwing "strikes" as forward passes in a game in 1910, demonstrates his form with his coach Bill hargiss.
Emporia Gazette E.T. Lowther's, sports editor, account of first forward passing
Presbies invent pass in 1910 a 1954 article
Evidence:
Hargiss declaration Bill Hargiss declares in his own hand written note
Markley declaration former player, witnesses first pass Oct. 1 1910 against Washburn University in Topeka, Kansas
Lyon affidavit former player, witness in 1910
F. G. (Fran) Welch testimony: first use of the forward pass
MP3 audio - from a talk given at Emporia State U on May 28, 1970
Early Usage of the Halfback Option Pass, 1910:
Bill Hargiss used the halfback option pass play, possibly as the first, at the College of Emporia in 1910. F. G. (Fran) Welch testifies to his experience before an audience at Emporia State University on May 28, 1970:
Fran Welch testimony - audio