Bill Hargiss' Undefeated ESU Football Season, 1926
Goal line never crossed by opponent.
Emporia State has had several outstanding teams over the years, among them the 6-0-1 1921 team, the 6-0-1 1927 team, the 7-1-1 1947 team, and the 7-2 1973 team. But what Shorty, Bonz, Slim, and the others accomplished in 1926 has not been duplicated. In the school's 108-year football history, there has been only one undefeated, untied team—the Teachers of 1926.
The Season's Record:

Teachers 10 Bethany 0
Teachers 14 Hays 0
Teachers 21 Wichita 0
Teachers 42 Southwestern 0
Teachers 35 Washburn 0
Teachers 21 Pittsburg 3
Teachers 6 C. of E. 0

Teachers 144 Opponents 3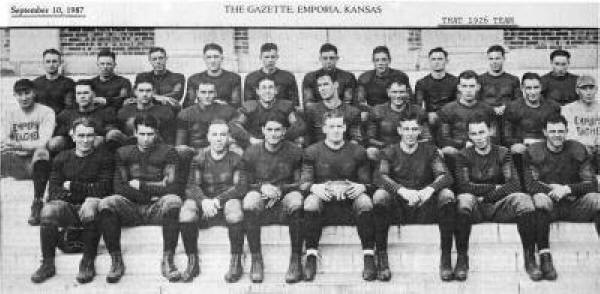 Upper Row — Stout, Astle, Roberts, Gribble, Helman, Currier, Fish, Austin, Hoch, Palmer 
Middle Row — Hargiss, D. Ridgway, P. Ridgway, Burnett, M. Hainline, Campbell, Hunt, Schlobohm, Carrier, McGahan 
Lower Row — Regnier, Clapp, Lane, A. Hainline, Richmond, Gulp, Cox, Sipe 

Coaching Staff:
H. W. Hargiss
L. W. McGahan
V. T. Trusler
F. G. Welch
Thos. Fleming
The Yellowjacket squad of 1926 follows: 
Gottlieb Richmond, All-Conference Guard and Captain:  "lAeh" was chosen on the all-conference team the last two years and was rated one of the best guards the school ever has known. This is his last season for the Teachers. 
Roy Lane, All-Conference and All-State Fullback: "Pudge" was chosen on the first all-state and all-conference teams. He set a conference record this year by kicking 21 consecutive goals after touchdown. He is a four-letter nxan. 
Oliver Clapp, Tackle: "Bolley" is a four-letter man and is as good a tackle as there is in the .state. When he tackled a man, he stayed tackled, and he seldom missed. 
Chesley Gulp, All-Conference Halfback: Gulp was chosen on the all-conference squad. "Chese" is one of the best backfield men in the state and the best ball lugger on the Hornet squad. 
Arthur Hoch, Second All-Conference Quarterback and Captain: Captain-elect Hoch is the little scrapper who guided the Hornets to a championship in the conference. He is heady, cool, deliberate, and smart. 
Menzo Hainline, All-Conference End: Playing the end position with Campbell, he made the all-conference team. He is big and fast and a hard man to stop. He will be back next year. 
Arlie Hainline, Tackle: Arlie was switched from end to tackle this fall and came through in great shape. He will be heard from in the future. 
Herman Schlobohm, Center: Schlobohm is one of the headiest centers ever to don a Hornet uniform, keeping his own team on-side and often catching his opponents off-side. 
Arthur Regnier, Guard: Art has played his last football for the Teachers. Acting as a running mate for Richmond, he broke up many plays and opened many holes in the opposing lines for his backfield. 
Wallace Sipe, Halfback: "Walley" is a good ball lugger and a splendid interference man. He is mighty hard to stop when he gets into action. 
Pierce Astle, Halfback: Astle wears the title of "Bullets" and the name fits. When he has the ball he is off down the field like the name he holds. He is lost to the squad by graduation. 
Emory Cox, Halfback: Cox has played his last for the Teachers. He is a constant threat in the backfield, a good interference man and a good ball lugger. 
Paul Ridgway, Guard: Ridgway is a first year man but he is headed toward a permanent place on the first string next year. 
Glenn Campbell, All-Conference and All-State End: "Slim" was a unanimous choice of coaches and officials on tlie all-state and all-conference teams during the past two years. He is a demon on snatching passes out of the air. 
Lawrence Carrier, End: "Zeke" is an end who is also a kicker and passer. He punts, passes, or place kicks and is good at all of them. He is a first-year man. 
Everett Fish, End: "Gus" is a two-letter man and plays the end position, substituting for Campbell. He is a good man on passes and can go down under a punt with any of them. 
William Wigley, Fullback: "Wigley is a terror to the other forces, tearing holes as big as a wagon through their lines for many gains. He will be back next year. 
Floyd Currier, Tackle: "Newt" did not get into many games but gave a good account of himself when given the opportunity. He will be back next year and should go In great shape. 
Almus Roberts, Halfback: Roberts is one of "Bill's" finds. He plays a consistent game, always the gentleman. When Roberts is in the game the opponents can well be on their toes, tor he is a tricky player. 
Jackson Austin, Quarterback: Jack fills the shoes of Art Hoch when there is a necessity for it and performs to perfection. He runs the team in great style and is a good leader. 
Gilbert Gribble, Tackle: Gribble Is a tackle who hasn't seen much service but will no doubt make a strong bid for a first string berth next fall. 
Harold Hunt, Tackle: Hunt is a powerful guard who will have a first string position next fall. He is big, fast, and a good man on defense. 
Dale Ridgway, Tackle: Ridgway is a tackle and a comer. He saw some service this fall and showed that be bad the makings of a real football player in his make-up. 
Joe Stout, Quarterback: Joe plays a good game at all times and is in every play. He is fast and shifty and a hard man to handle, once he gets away. 
Alfred Helman, Center: Helman, acting as an understudy to Schlobohm, performed in great style and probably will have the regular job at the pivot position next year.  
Dale Burnett, Tackle: Burnett is the of the most promising freshman to don a Hornet uniform this year. He will be a mighty valuable man to the squad next season. 
The year no one could beat Emporia