Bill Hargiss Elected Head of Missouri Valley A. A. U.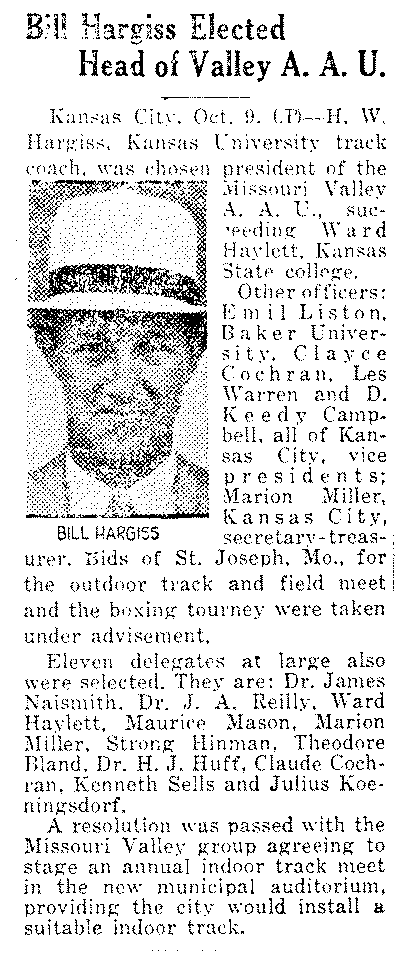 , 1940
Kansas City, Oct. 9. (AP)
H. W. Hargiss, Kansas University track coach, was chosen president of the Missouri Valley A. A. U., succeeding Ward Haylett, Kansas State college.
Other officers: Emil Liston, Baker University, Clayce Cochran, Les Warren and D. Keedy Campbell, all of Kansas City, vice presidents; Marion Miller, Kansas City, secretary-treasurer. Bids of St. Joseph, Mo., for the outdoor track and field meet and the boxing tourney were taken under advisement.
Eleven delegates at large also were selected. They are: Dr. James Naismith, Dr, J. A. Reilly, Ward Haylett, Maurice Mason, Marion Miller, Strong Hinman, Theodore Bland, Dr. H. J. Huff, Claude Cochran, Kenneth Sells, and Julius Koeningsdorf.
A resolution was passed with the Missouri Valley group agreeing to stage an annual indoor track meet in the new municipal auditorium, providing the city would install a suitable indoor track.
Bill Hargiss served from 1940 to 1942.