Bill Hargiss with the U. S. Air Force Olympic Team, 1960
Oxnard, CA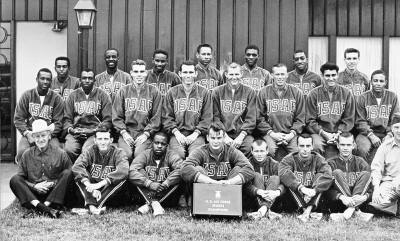 Note by Genevieve Hargiss:
In November of 1959 Bill was hospitalized for several weeks after undergoing kidney surgery. While he was recovering he received a surprise invitation to train and coach air force athletes for the Olympic trials. At first he was not sure he would be well enough, but the prospect delighted him and seemed to speed the regaining of his strength. It was no problem to obtain a leave of absence from the Kansas Athletic Commission for a few months, and he went to Oxnard, California early in February, 1960. The experience renewed his self-esteem and put a fitting cap on his coaching career.