Bill Hargiss at Oregon Agricultural College, 1918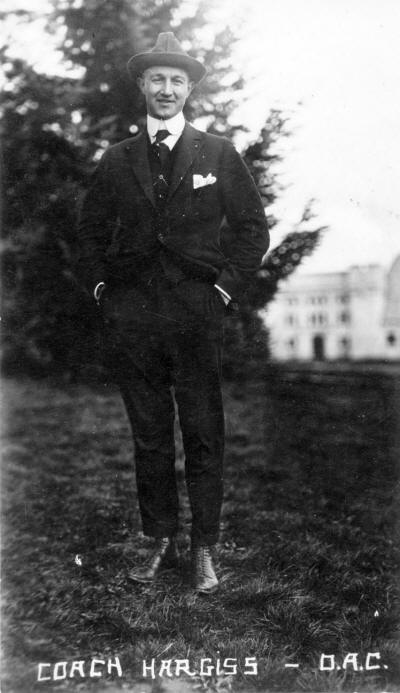 Corvallis, OR
H. W. Hargiss, director of physical education and coach of athletics at Kansas Normal college, was chosen to succeed Joseph A. Pipal as football, track, and basketball coach at O.A.C. in 1918.
Hargiss new football coach at OAC 1918
While there something happened that he never mentioned before. His success as a coach was soon established on the West Coast and at an athlete meeting in Palo Alto he was asked to become coach at Stanford the next year. Strict secrecy was imposed on him. Stanford did not want it to be known until it was announced there.
Hargiss told nobody except his wife and she did not mention it to a soul. But at Christmas time the Portland Oregonian announced in inch-high letters "Hargiss to Go to Stanford."
The author of the story would not say where he got the informationóhe had not talked to Hargissóbut he became a prophet without honor, for in the unpleasantness that followed, Hargiss did not go to Stanford.
Hargiss offers resignation at OAC
1918
HEAD COACH: H. W. Hargiss
CAPTAIN: Meier Newman
2-4-0 overall
at Vancouver Barracks W 7-0
at Camp Lewis L 6-21
at Stand. Shipbuilders W 14-0
Oregon L 6-13
at Washington L 0-6
at Multnomah A.C. L 0-6
1919
HEAD COACH: H. W. Hargiss
CAPTAIN: Raymond Archibald
4-4-1 overall
Alumni T 0-0
Rooks W 21-0
Pacific W 46-6
Stanford L 6-14
at California L 14-21
Multnomah A.C. L 0-14
at Oregon L 0-9
vs Washington St(Portland) W 6-0
Gonzaga W 50-0
Football record:
| | | | | | | |
| --- | --- | --- | --- | --- | --- | --- |
| date | | wins | losses | ties | | |
| 1918 | | 2 | 4 | 0 | | First use offensive huddle |
| 1919 | | 4 | 4 | 1 | | |
More articles: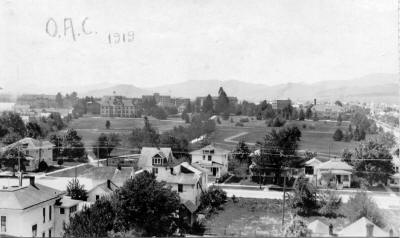 O.A.C. gridiron history a 1933 article re OSU football of the era.
Hargiss believer in omens at O.A.C.
Hargiss has Qualifications for Good Coach News article, photo

Hargiss head of PE at O.A.C.
O.A.C. football photos
O.A.C. sports teams photos
O.A.C. sports teams photos
Coaching at Oregon State, Corvallis, Hargiss is credited with pioneering the use of the huddle. Before that time all signals were barked out by the quarterback with team members in their regular positions. In order to eliminate confusion due to crowd noise, Hargiss one day tried having his linemen just turn around and face the quarterback, forming a wide cup around him as the signals were called. From this start there developed the close huddle, and at some distance back of the line of scrimmage, which accomplished the purpose much better.
Sports writers panned him for the innovation and other coaches criticized the huddle because they said it cost time. But Hargiss brought the huddle back to Kansas and Bob Zuppke of Illinois began employing it. Today, most teams use it.
For more information on Hargiss' usage of the offensive huddle at Oregon State University in 1918 please visit: