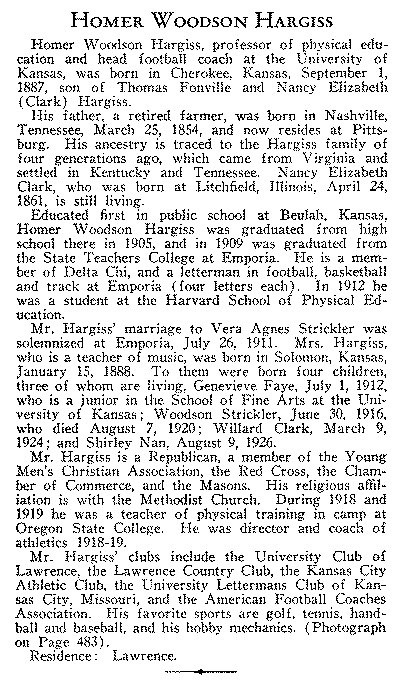 Bill Hargiss in Kansas Illustriana, 1933 (Biographical Sketches of Kansas Men and Women of Achievement who have been awarded Life Membership in Kansas Illustriana Society) by Baldwin, Sara A. (Mullin); Baldwin, Robert Morton, joint ed.
HOMER WOODSON HARGISS
Homer Woodson Hargiss, professor of physical education and head football coach at the University of Kansas, was born in Cherokee, Kansas, September 1, 1887, son of Thomas Fonville and Nancy Elizabeth (Clark) Hargiss.
His father, a retired farmer, was born in Nashville, Tennessee, March 25, 1854, and now resides at Pittsburg. His ancestry is traced to the Hargiss family of four generations ago, which came from Virginia and settled in Kentucky and Tennessee. Nancy Elizabeth Clark, who was born at Litchfield, Illinois, April 24, 1861, is still living.
Educated first in public school at Beulah, Kansas, Homer Woodson Hargiss was graduated from high school there in 1905, and in 1909 was graduated from the State Teachers College at Emporia. He is a member of Delta Chi, and a letterman in football, basketball and track at Emporia (four letters each). In 1912 he was a student at the Harvard School of Physical Education.
Mr. Hargiss' marriage to Vera Agnes Strickler was solemnized at Emporia, July 26, 1911. Mrs. Hargiss, who is a teacher of music, was born in Solomon, Kansas, January 15, 1888. To them were born four children, three of whom are living, Genevieve Faye, July 1, 1912, who is a junior in the School of Fine Arts at the University of Kansas; Woodson Strickler, June 30, 1916, who died August 7, 1920; Willard Clark, March 9, 1924; and Shirley Nan, August 9, 1926.
Mr. Hargiss is a Republican, a member of the Young Men's Christian Association, the Red Cross, the Chamber of Commerce, and the Masons. His religious affiliation is with the Methodist Church. During 1918 and 1919 he was a teacher of physical training in camp at Oregon State College. He was director and coach of athletics 1918-1919.
Mr. Hargiss' clubs include the University Club of Lawrence, the Lawrence Country Club, the Kansas City Athletic Club, the University Letterman's Club of Kansas City, Missouri, and the American Football Coaches Association. His favorite sports are golf, tennis, handball and baseball, and his hobby mechanics. (Photograph on Page 483).
Residence : Lawrence.