Bill Hargiss' Youth, 1887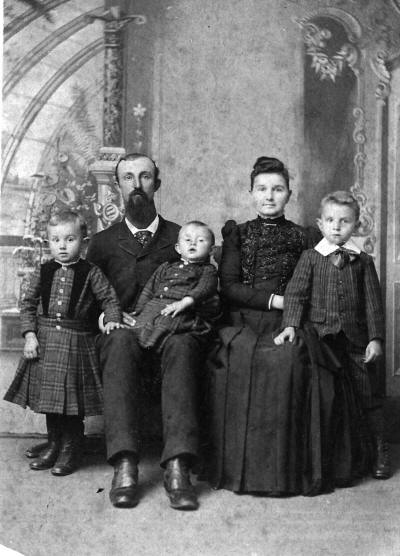 Cherokee Co, Kansas
The third son of Thomas and Nancy Hargiss was born September 1, 1887, and was named Homer Woodson. He gave himself the name of Bill when he became a schoolboy and was forceful enough to make it stick. "No one ever called me Homer Woodson. It just didn't fit." The only person who continued to call him Homer was his mother.
He grew up in a family of five boys and one girl on a farm in Cherokee County, Kansas, and went to school at Beulah, a vanishing town that was five miles south of Girard. "Our farmhouse was in Cherokee but the barn was in Crawford county," Bill explains.
Right: Homer Woodson as a baby in 1888 with parents and his two older brothers Leonard 5, and Charles 3.
With five adventuresome boys and a girl who preferred the outdoor life to that of helping in the house, life was certainly not boring or dull. As all the boys were athletes, the driveway was measured off in 50, 100, and 400-yard dash marks. The haymow was almost a gym with trapeze swings, parallel bars and pads for turning handsprings (at which Bob was very proficient). Hammer throwing, shot put and discus throwing were practiced in the small pasture near the barn.
Parents More on the lives of Thomas and Nancy Hargiss.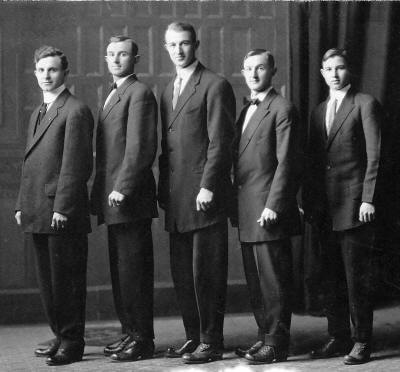 The Hargiss boys, ca. 1910:
Leonard (1883-1920)
Charles (1885-1923)
Homer "Bill" (1887-1978)
Floyd "Bob" (1890-1972)
Meade (1895-1988)
[Sister Vetra (1903-1990) is not pictured]
Beulah High School, 1901

Beulah High had a great football team. Beulah, a small village seven miles west of Pittsburg KS, had a 2-year high school whose team, playing just three students, was the scourge of the Cherokee Neutral Lands in the early 1900's. Not all the players went to school, but that was not thought important. The halfbacks were legitimate scholars, the Hargiss brothers, Bill and Charlie.
The coach, for that matter, was not employed by the school, or by anybody. He was the Presbyterian minister and had graduated from Princeton, who installed the Princeton system. That is, Beulah also used the orthodox T, but the center bounced the ball to the quarterback, stationed one yard back. The quarterback was Bert Potter, who had been a star at the University of Iowa. Two other college players who succeeded in making the Beulah High team were Frank and John Schofield, who had been topflight players at Northwestern University. Beulah's strongest player was Miller (Jumbo) Hyndman, one of the most powerful linemen ever to play for KSC. The Reverend Williams was never on the first eleven at Princeton and Bill Hargiss believed it would have been unethical for him to both play and coach at Beulah High. Less charitable people thought he was honest enough to know he lacked the ability to crack Beulah's lineup.
"Most of us kids had to go home after school and milk the cows," Hargiss said, "but we rigged up some reflectors so we could do a little practicing at nights. Lights were rigged up for night practice in a pasture near the school - four arc-lights, two on each side of the field, 30 yards apart." This may have been the first high school practice at night.
Hargiss was a three-sport standout at Beulah High School where he led the football team to an undefeated season and graduated in 1905.