Hargiss Scholarship at Emporia State University
At ESU, his name lives on partly through the Homer Woodson Hargiss Athletic Award scholarship for which all athletes are eligible if they are in good academic standing, as prescribed by the college. Recipients must participate in the sport for which the award is granted with the minimum award covering college fees and a book allowance.
[from May 28, 1970] Mr. Hargiss, a vigorous 83 , said he was "whelmed all over" at the tributes from his former players, contemporary coaches, successors and admirers. He was presented with a check for $1,394.50 as a gift from his former players, and promptly endorsed it over to the Bill Hargiss Scholarship Fund at the Teachers College. [MP3 audio of this. "Bonz" mentioned is Menzo Hainline.]
Letter from ESU, 9 Jul 1970:
Mr. H. W. Hargiss
2503 Missouri
Lawrence, Kansas 66044
Dear Mr. Hargiss:
I have received your check for the amount of $1,394.50 and, on behalf of the Kansas State Teachers College and the Emporia State College Endowment Association, wish to express our sincere appreciation for this thoughtful and worthwhile gesture.
It is people such as you who help make KSTC an outstanding school and give those of us here inspiration to carry on towards an even greater future. The Bill Hargiss Fund will be a lasting tribute to your many years of active service to the college and will remind us all that the heritage of personal concern for our students and for their education that you helped establish is now ours to carry on.
The contribution has been credited to the Bill Hargiss Fund as you requested. Please drop by to see us when you can and know that we are deeply appreciative of your generous support.
Since Mr. Meyer will be out of the office for the next few weeks, I am corresponding with you at this time.
Sincerely,
Carol Ann Kiene
Secretary to the Asst to the President for Development
Letter from ESU, 9 Dec 1981:
Genevieve Hargiss
2503 Mo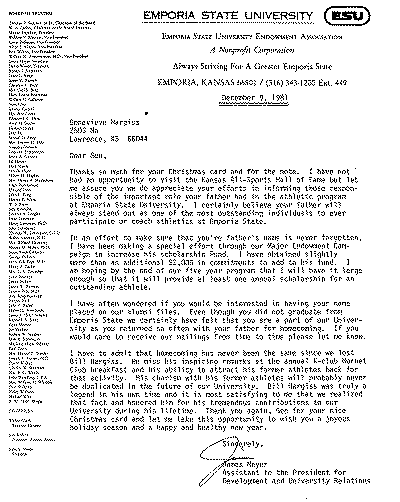 Lawrence, KS 66044

Dear Gen,

Thanks so much for your Christmas card and for the note. I have not had an opportunity to visit the Kansas All-Sports Hall of Fame but let me assure you we do appreciate your efforts in informing those responsible of the important role your father had in the athletic program at Emporia State University. I certainly believe your father will always stand out as one of the most outstanding individuals to ever participate or coach athletics at Emporia State.
In an effort to make sure that you're father's name is never forgotten, I have been making a special effort through our Major Endowment Campaign to increase his scholarship Fund. I have obtained slightly more than an additional $2,000 in commitments to add to his fund. I am hoping by the end of our five year program that I will have it large enough so that it will provide at least one annual scholarship for an outstanding athlete.
I have often wondered if you would be interested in having your name placed on our alumni files. Even though you did not graduate from Emporia State we certainly have felt that you are a part of our University as you returned so often with your father for homecoming. If you would care to receive our mailings from time to time please let me know.
I have to admit that homecoming has never been the same since we lost Bill Hargiss. We miss his inspiring remarks at the annual K-club Hornet Club breakfast and his ability to attract his former athletes back for that activity. His charisma with his former athletes will probably never be duplicated in the future of our University. Bill Hargiss was truly a legend in his own time and it is most satisfying to me that we realized that fact and honored him for his tremendous contributions to our University during his lifetime. Thank you again, Gen for your nice Christmas card and let me take this opportunity to wish you a joyous holiday season and a happy and healthy new year.

Sincerely,

James Meyer
Assistant to the President for Development and University Relations