Bill Hargiss in Retirement, 1962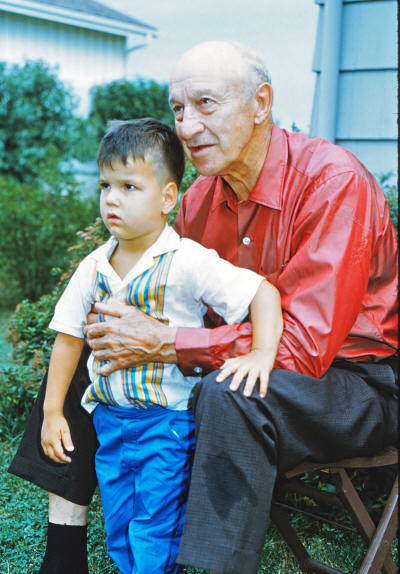 Note from Genevieve Hargiss:

He was to have 16 retirement years ahead of him, and honors continued to come his way. The qualities that made Bill Hargiss one of the greatest athletes and coaches Kansas ever produced were evident in the interesting life he made for himself in retirement. He painted in oils, he worked in wood with power tools, he played golf, he looked after his yard and grew tea roses, he traveled, and was an educated spectator at football games and other athletic events.
Photos on right: Hargiss with youngest grandson Marc Woodson Oberheide in 1962 and 1972.
C. E. McBride retirement retirement party for KC Star sports ed.
Brutus Hamilton letter ex-KU track coach writes to Hargiss about a story 40 years later
Story from Oregon State coaching from KU program guide
Return to Lawrence Hargiss moves from Topeka to Lawrence in 1966
Palm Springs visits Bill Hargiss spent winter months in California
Homecoming at ESU Bill Hargiss attended Emporia's homecoming when possible
Singing Bill Hargiss sang in Glee Club in school and he had a rich baritone voice.
Speaker:
Bill was a talented speaker and told spell binding stories.

Brutus Hamilton (Olympic decathlete and coach) writes,
"No one could ever tell a story quite as well as you, and I didn't approach you either in drama or eloquence. You brought the dog to life right there before us, and we all sat enthralled as you spun the yarn. You always had a majestic voice and you combined that with just the right words, the proper gestures, and a fine sense of timing together with your delightful sense of humor and your genius for turning a phrase."
Fred A. Markowitz in 1962 writes,
"To visit privately with Bill Hargiss in his comfortable home at 1277 Randolph in Topeka, and hear him reminisce about his years as an athlete, teacher, and coach at the old Kansas State Normal is a rich experience. The personality of Bill is responsible for this. The purity of his warm, friendly manner affects one immediately; it announces to him that he is truly, sincerely welcome in Bill's home. Then the harsh, yet pleasant voice, the voice of a football coach, booms out the story, and a dramatic story it is. And the most impressiv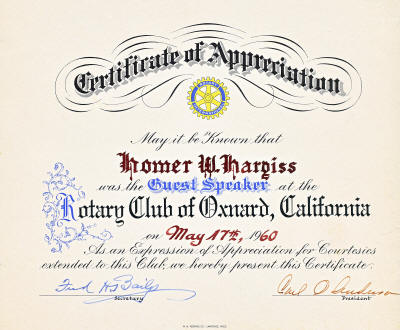 e part of it is Bill's frequent expression of respect and deep friendship for those who played beside him and for him at the Normal. After interviewing Bill Hargiss, the history of football at Kansas State Teachers College took on a grand new dimension of richness and meaning to this writer."
Carty Dawes, KU c'42 in article,
"Bill is one of those rare men who has the ability to give orders and make those taking them, like the idea. He's personality man No. 1 around K.U.
Speaking distinctly and frankly, Coach Hargiss portrayed the character of a champion—open, honest, firm, and fair. All he said was given of his voluntary accord, but when he spoke, one could tell that he meant every word he said. It was difficult to dispute him. He gave himself up completely to being just a simple person. That's one thing that increases Bill Hargiss' distinct style of charm. He forces you to like him."