Homecoming at ESU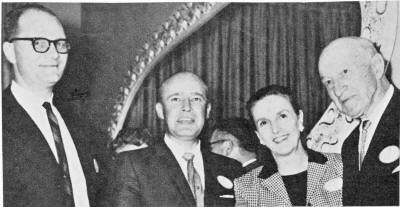 Note by Genevieve Hargiss:

After he retired, Bill usually attended the Homecoming festivities every year at Emporia. When he missed it was because he was ill or in another part of the country.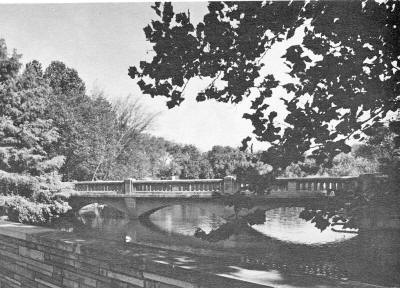 EMPORIA, KANSAS 66801 November 21, 1974

Mr. Bill Hargiss
2503 Missouri
Lawrence, KS 66044

Dear Bill:
I am enclosing a copy of the group picture t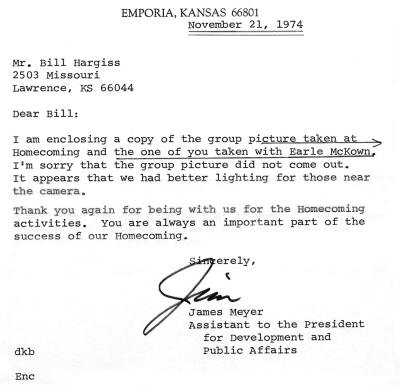 aken at Homecoming and the one of you taken with Earle McKown. I'm sorry that the group picture did not come out. It appears that we had better lighting for those near the camera.
Thank you again for being with us for the Homecoming activities. You are always an important part of the success of our Homecoming.
Sincerely,
James Meyer
Assistant to the President for Development and Public Affairs

E-State homecoming scheduled this week
1976

EMPORIA — "Yesterday Is Gone, But Not Forgotten" is the theme for Emporia State College's Homecoming.
Activities will begin Wednesday with a 7 p m. powder puff football game and bonfire at Welch Field, and continue through homecoming dances and parties Saturday night.
"The 'Music Man" homecoming scholarship show will be presented at 8:15 p.m. Thursday-Saturday in Albert Taylor Hall. Tickets are $2.50, $3.50, $4, and $5, with all proceeds helping to provide scholarships for E-State speech and music stu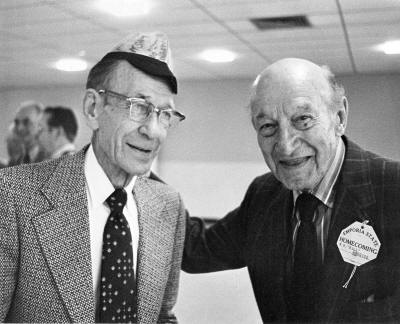 dents.
The four 1976 Emporia State Distinguished Alumni will be honored at a dinner at 6 p.m. Friday in the Memorial Union, Flint Hills Room. Benjamin Day, Leavenworth; Alma Eikerman, Bloomington, Ind.; Helen M. Johnson, Winfield; and Dr. Jean Leblon, Nashville, Tenn.; were named distinguished alumni.
Coach Bill Hargiss and members of his 1926 Emporia State football team , will be honored at a dinner at 7 p.m. Friday in the Memorial Union, Kanza Room. The 1926 team, which finished the season with a 7-0 record, is the only undefeated, untied team in Emporia State's history.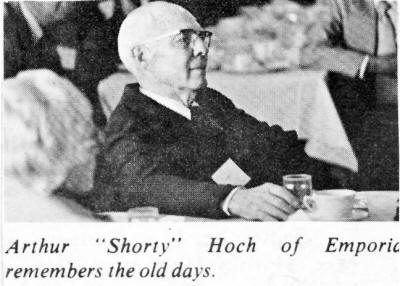 Arthur "Shorty" Hock of Emporia remembers the old days.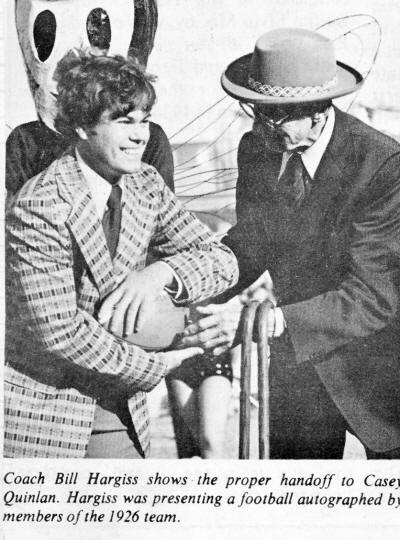 Coach Bill Hargiss shows the proper handoff to Casey Quinlan. Hargiss was presenting a football autographed by members of the 1926 team.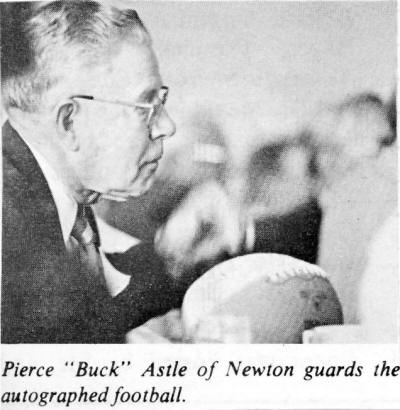 Pierce "Buck" Astle guards the autographed football.