Only Kind Word Here for Coach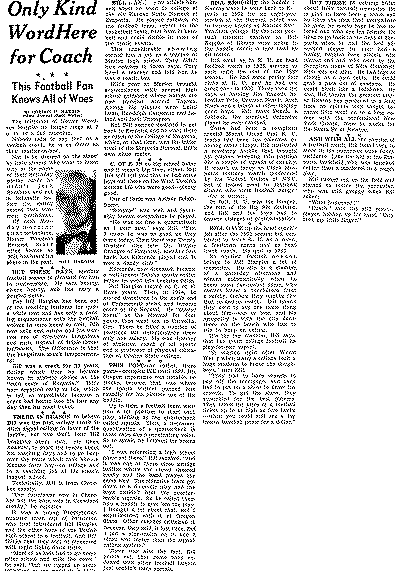 This Football Fan Knows All of Woes
By GORDON P. MARTIN (State Journal Staff Writer)

The telephone of Homer Woodson Hargiss no longer rings 2 a.m. of a fall morning.
Nobody calls to say that as a football coach, he is as dumb as their mother-in-law.
Nor is he stopped on the street by irate alumni who want to know why in the name of their Saturday parlay cards he didn't jerk Smithers and put in Schmaltz before the enemy scored that winning touchdown.
Of such Monday morning quarterbacking, Homer Woodson Hargiss, more often known as Bill, has heard his share in the past.
BUT THESE DAYS, another football season is pleasant for him to contemplate. He eats hearty, sleeps hearty, and has nary a jangled nerve.
For Bill Hargiss has been out of the coaching business for quite a while now and has only a passing acquaintance with the football wolves he once knew so well. Bill now sells real estate and his worries are of five-room bungalows and such, instead of triple-threat halfbacks. The difference is that the bungalows aren't temperamental.
Bill was a coach for 33 years, during which time he became known in athletic circles as the "bald eagle of Emporia." Bill's hair departed early in life, which is not so regrettable because a coach had better lose his hair any day than his meal ticket.
THERE IS REASON to believe Bill was the first college coach to ditch signal-calling in favor of the huddle, but you don't hear Bill bragging about that. He likes, however, to shoot the breeze about his coaching days and to go back over the route which took him—a Kansas farm boy—to college and to a coaching job at his state's, biggest school.
Technically, Bill is from Cherokee county.
"Our farmhouse was in Cherokee but the barn was in Crawford county," he explains.
It was a young Presbyterian minister fresh out of Princeton who first introduced Bill Hargiss and the other boys of the Beulah high school to a football. And Bill thinks that they sort of pioneered with night lights down there.
"Most of us kids had to go home after school and milk the cows," he said, "but we rigged up some reflectors so we could do a little practicing at nights.
Bill was quite an athlete himself when he went to college at the old Kansas State Normal at Emporia. He played fullback on the football team, center on the basketball team, first base in baseball and could double in most of the track events.
This considerable showing earned him a job as a teacher at Marion high school. They didn't hire coaches in those days. They hired a teacher and told him he was a coach, too.
Bill's year at Marion brought acquaintance with several high school gridsters whose names are now familiar around Topeka. Among his players were Laird Dean, Randolph Carpenter and Leland and Jack Thompson.
But Bill seemed destined to get back to Emporia and he went there as coach of the College of Emporia, which, at that time, was the bitter rival of the Emporia Normal, Bill's own alma mater.
C. OF E. is no big school today and it wasn't big then, either. But Bill will tell you that he had some boys out there on the West Twelfth avenue hill who were good—plenty good.
One of them was Arthur Schabinger.
"Schabie" was well and favorably known everywhere he played.
"He was as fine a quarterback as I ever saw," says Bill. "Yes, I mean he was as good as they come today. Then there was Twisty Granger (the late Dr. Wayne Granger of Emporia), another fine back. Les Edmonds played end. It was a dandy club."
Edmonds, now deceased, became a well known Topeka sports writer before he went into business fields.
Bill Hargiss stayed at C. of E. three years. Then, in 1914, he moved downtown to the north end of Commercial street and became coach of the Normal. He "stayed home" at the Normal for four years, then went out to Corvallis, Ore. There he filled a number of positions but unfortunately drew only one salary. He was director of athletics, coach of all sports and a professor of physical education at Oregon State college.
THIS POST—or rather, these posts—occupied Bill until 1920. His Oregon experience was notable, he thinks, because that was where the sports writers panned him roundly for his pioneer use of the huddle.
Up to then, a football team went into a set position to start each play, shifting as the quarterback called signals. Thus, a necessary qualification of a quarterback in those days was a penetrating voice. So to speak, he hollered his brains out.
"I was refereeing a high school game out there," Bill recalled, "and it was one of those close grudge, battles where the crowd cheered loudly and the band played the same way. The offensive team got down to a do-or-die play and the boys couldn't hear the quarterback's signals. So he called them into a huddle to give 'em the play. I thought a lot about that, and I experimented with it at Oregon, State. Other coaches criticized it because, they said, it lost time. But I put a stop-watch on it, and it often was faster than the signal calling system.
There was also the fact, Bill points out, that some boys endowed with other football talents just couldn't learn signals.
BILL BROUGHT the huddle to Kansas when he went back to Emporia in 1920 for an eight-year stretch at the Normal, which was to become known as Kansas State Teachers college. By the next year, such eminent coaches as Bob Zuppke of Illinois were going to the huddle which is now used by all teams.
Bill went on to K.U. as head football coach in 1928, serving as such until the end of the 1932 season. He had some pretty fair clubs at K. U. and he had one great one—in 1930. Those were the days of Jarring Jim Bausch, his brother Pete, Ormand Beach, Arch Stuck and a bunch of other mighty good boys. Bill rates Beach, a fullback, the greatest defensive player he ever coached.
There had been a complaint, around Mount Oread that K. U. teams had been too colorless so, among other things, Bill instituted a revolving huddle that brought his players wheeling into position like a couple of squads of cavalry. It wasn't as fancy as Chick Meehan's military march performed by his Violent Violets of NYU, but it looked good to Jayhawk alumni who were football hungry for a winner.
In fact, K. U. was too hungry, the rest of the Big Six declared, and Bill and his boys had to answer charges of professionalism.
BILL GAVE up the head coach's job after the 1932 season but continued to serve K.U. as a scout, a freshman coach and as head track coach. He quit in 1943.
So another football season brings to Bill Hargiss a lot of memories. He sits in a stadium of a Saturday afternoon and winces automatically when he hears some fur-coated dame, who doesn't know a touchdown from a safety, declare they oughts fire that so-and-so coach. Bill knows they used to say the same thing about him—win or lose, and his sympathy is with the guy down there on the bench who has to win to keep on eating.
It's the big stadium, Bill says, that has given college football its play-for-pay aspect.
"It started right after World War I when many a college built a huge stadium to honor the dough-boys," says Bill.
"They had to have crowds to pay off the mortgage, and they had to put on a show to draw the crowds. To get the show, they scrambled for the best players. They hiked the price of a football ticket up to as high as five bucks —when you could still see a big league baseball game for a dollar."
BUT THERE IS nothing bitter about Bill's football memories. He is glad to have been a coach and he likes the idea that everywhere he goes, he meets boys he has tutored and who are his friends. He likes to back to the days at Emporia when he had the best all-around player he ever had—a husky, natural born athlete who played end and who went by the deceptive name of Slim Campbell. Slim was not slim. He had legs as strong as a pool table. He could grab a pass out of nowhere. He could block like a bulldozer. He was, Bill thinks, the greatest player Kansas has produced in a long time, an opinion with weight because Slim went on to a long career with the professional New York Giants. Now he works for the Santa Fe at Newton.
AND WITH ALL the worries of a football coach, Bill found time to store in his memories some funny incidents. Like the kid in the Emporia backfield who was knocked colder than a mackerel in a rough play.
Bill rushed out on the field and started to revive the youngster. who was still groggy when Bill asked:
"What happened ?"
"Coach," said the still punchy player, holding up his hand, "they hurt my little finger."