March 21, 1971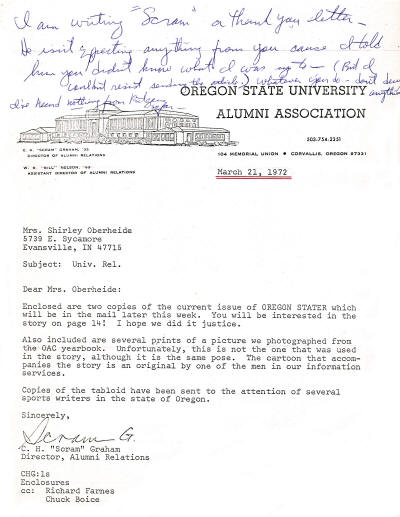 Mrs. Shirley Oberheide
5739 E. Sycamore
Evansville, IN 47715

Subject: Univ. Rel.

Dear Mrs. Oberheide:

Enclosed are two copies of the current issue of OREGON STATER which will be in the mail later this week. You will be interested in the story on page 14! I hope we did it justice.
Also included are several prints of a picture we photographed from the OAC yearbook. Unfortunately, this is not the one that was used in the story, although it is the same pose. The cartoon that accompanies the story is an original by one of the men in our information services.
Copies of the tabloid have been sent to the attention of several sports writers in the state of Oregon.

Sincerely,

H. "Scram" Graham
Director, Alumni Relations

cc: Richard Farnes, Chuck Boice