Letter from Royal Brougham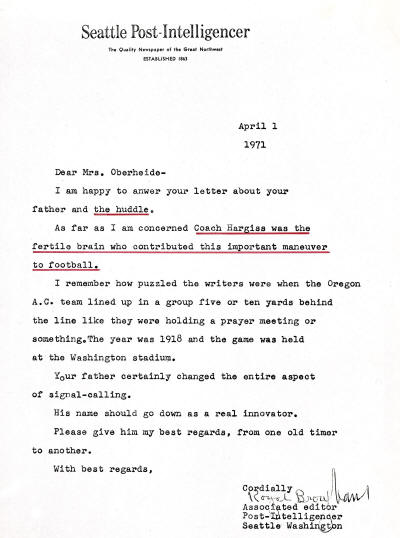 April 1, 1971

Dear Mrs. Oberheide-

I am happy to answer your letter about your father and the huddle.
As far as I am concerned Coach Hargiss was the fertile brain who contributed this important maneuver to football.
I remember how puzzled the writers were when the Oregon A. C. team lined up in a group five or ten yards behind the line like they were holding a prayer meeting or something. The year was 1918 and the game was held at the Washington stadium.
Your father certainly changed the entire aspect of signal-calling.
His name should go down as a real innovator.
Please give him my best regards, from one old timer to another.
With best regards,

Cordially

Royal Brougham
Associated editor
Post-Intelligencer
Seattle Washington