1918 Team Seeks Hall of Fame Bid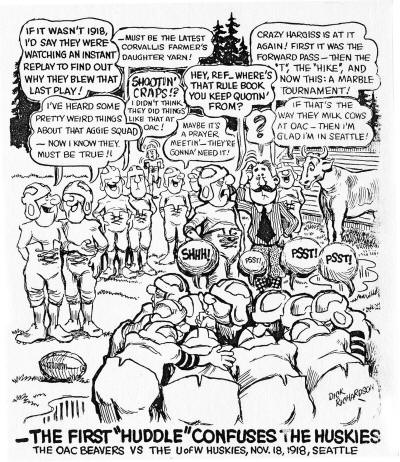 Only 2-4-0, but...
Oregon Stater article 1971
That OAC football team back in 1918 didn't carve out much of a record.
It had two wins, four losses and a couple of games not played because of the flu epidemic.
The victories reflected the World War I times. They were over Vancouver Barracks, 7-0, and Standifer Shipbuilders, 14-0. Losses came at the hands of Camp Lewis, 20-6; Oregon, 13-6; Washington and Multnomah Athletic Club, both 6-0.
But the team may yet gain a nitch in the College Football Hall of Fame at Rutgers University, if a lady by the name of Mrs. Shirley H. Oberheide of Evansville, Ind., and a lot of folk in Kansas have their way.
The story goes like this:
The OAC coach of that team was Homer Woodson (Bill) Hargiss, who had arrived at Corvallis that fall after several successful years at Kansas State Normal in Emporia.
A football innovator
Hargiss was known as an innovator in football. For example, he had used the forward pass as an integral part of his offense in 1910 in his first coaching job at College of Emporia three years before the famous Notre Dame pass against Army. He also had worked early with lightweight football shoes, the T formation and the "hike" or shift to an unbalanced line.
What Mrs. Oberheide, who is Hargiss' daughter, and many others believe is that the 1918 OAC team for the first time in college football -- huddled. They grouped around the quarterback to get the signals for their next play and there certainly is no record of that having been done previously. Hargiss, retired for many years in Kansas, thinks he" was the first.
The Beavers were having trouble moving the ball against a strong Washington team in Seattle that November 18, 1918.
Huskies know OAC signals
In those days, the teams simply lined up in their formation and called the signals. Naturally, the opposition could hear all the series of numbers and a code, in effect, had to be employed much as happens today when a quarterback changes the play at the line of scrimmage after looking over the defense.
In this case, the Huskies appeared to be understanding the signals frequently. Jack J. Foster, P. 0. Box 91, The Dalles, Ore., Class of '22 and right end for that team, went before a notary public last spring to help establish Hargiss' claim.
Foster said in part:
"...We played the U. of W. at Seattle that year ... I am sure the huddle was used in that game, although at that time it had not been given the huddle name.
"As I remember, in the first half of that game, the U. of W. team was reading our signals as the quarterback called them, and was stopping us cold on nearly every play. So, during halftime Coach Hargiss told us to whisper the play out of hearing of the defensive team, and then our plays began to work. We did not use it on every play.
"So, I am sure that Coach Bill Hargiss was the very first to use the huddle..."
Royal Brougham responds
Some very interesting testimony was provided when Johnny Eggers, the current sports information director, decided to contact Royal Brougham, associate editor of the Seattle Post-Intelligencer and a noted sports writer who dates back to those World War I years.
Brougham wrote to Mrs. Oberheide:
"I am happy to answer your letter about your father and the huddle.
"As far as I am concerned Coach Hargiss was the fertile brain who contributed this important maneuver to football.
"I remember how puzzled the writers were when the Oregon A.C. team lined up in a group five or ten yards behind the line like they were holding a prayer meeting or something. The year was 1918 and the game was held at the Washington stadium.
"Your father certainly changed the entire aspect of signal-calling.
"His name should go down as the real innovator.
"Please give him my best regards, from one old timer to another..."
The innovation was not enough to turn the tide of the game. Washington won, 60. But OAC did dominate much of the second half and twice advanced to the one yard line only to be held on fourth down.
Hargiss said he got the huddle idea a week or so earlier when he was watching some young boys in an unorganized scrimmage. They didn't have a signal system and whispered the plays.
Zuppke has been credited
Hargiss used the huddle for several years before he saw it used by an opposing team. The record book credits the huddle to the famous Illinois coach, Bob Zuppke, and the generally accepted date for this innovation is 1921.
That war and flu epidemic disrupted team did have some very good individuals, according to the reports of the day. Several backs stood out, including Ray "Penny" Archibald, right halfback and the squad's only letterman, sophomore fullback George "Gap" Powell and all-PCC halfback Albert "Duke" Holder. The key men in the line included tackles Emil Christensen, who played every minute, George Schwin and Ernest Wolf, and center Bob Stewart.
Other squad named were Julian Ash, Joy Badley, Bill Foster, Jack Foster, Delbert Kirchenschlager, Kloyd Knapp, Nathan Lipman, Merle Loosley, Joe "Skeet" Reynolds, Sam Strohecker, Edwin Thompson, Bob Tucker, Bob Van Hoesen, Ed Wright and Ernest Wolf.
The following year, with most of the teams bolstered by returning World War I veterans, Hargiss' Aggies posted a 4-4-1 record while outscoring the opposition, 143-64.
Hargiss also coached basketball and track. "Butts" Reardon, captain of the 1919 football team was captain of both the 1919 and 1920 basketball teams.
Cunningham ran for Hargiss
Forecasting international fame to come in later years, Hargiss' track teams of 1919 and 1920 were very successful. The 1920 team topped everything in the Northwest and trailed only strong California and Stanford in the PCC meet. One of the Coast champions was miler Grant "Doc" Swan, later to coach the Beaver track team for many years.
Hargiss left Oregon State after the two years to return to Emporia and what was now called Kansas State Teachers College. In eight years there he had great success in both football and track. His 1926 football team was undefeated, untied, and un-scored on except for one field goal.
In 1928, he went to University of Kansas for a 16-year stay. It was in track where he gained his greatest fame. He coached two of the biggest names in pre-World War II track. His star fullback, Jim Bausch, broke a record in winning the decathlon in the Olympic Games in 1932 and Glenn Cunningham was to be the world's fastest miler for 10 years.
Enter prep star Ralph Miller
In the late '30s he concentrated his coaching on track and was on the lookout for another decathlon champion. One such prospect was an all-around athlete from Chanute, Kan., by the name of Ralph Miller, none other than the present OSU basketball coach.
Ralph was state hurdles champion and, more than that, had done fairly well in a variety of events. An injured knee, however, put aside any thoughts of the rugged decathlon or any track. Instead, Miller went on to win all-conference honors in basketball and football.
"I had no idea that Bill had been at Oregon State, that this was the H. W Hargiss who had coached here, until this came up," Miller said. "He was a Kansas fixture... Bill is a great man. I had not heard of this huddle thing, but, as a coach, Bill had the kind of keen mind that would have made him the innovator."
Bill does well in retirement with oil painting, wood working, golf, watching sports, two daughters in the Midwest, a son and brother in California to visit and six grandchildren.
A year ago the fans and friends heaped honors on him at a banquet in Emporia that brought back many of his athletes from all parts of the country.
But his family and friends think there are a few things that should be put in order. One of them is that the Football Hall of Fame doors should be opened to that 1918 OAC team.