Response from Pro Football Hall of Fame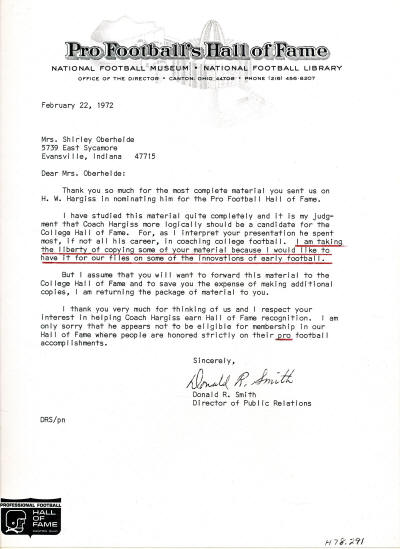 February 22, 1972

Mrs. Shirley Oberheide
5739 East Sycamore
Evansville, Indiana 47715

Dear Mrs. Oberheide:

Thank you so much for the most complete material you sent us on H. W. Hargiss in nominating him for the Pro Football Hall of Fame.
I have studied this material quite completely and it is my judgment that Coach Hargiss more logically should be a candidate for the College Hall of Fame. For, as I interpret your presentation he spent most, if not all his career, in coaching college football. I am taking the liberty of copying some of your material because I would like to have it for our files on some of the innovations of early football.
But I assume that you will want to forward this material to the College Hall of Fame and to save you the expense of making additional copies, I am returning the package of material to you.
I thank you very much for thinking of us and I respect your interest in helping Coach Hargiss earn Hall of Fame recognition. I am only sorry that he appears not to be eligible for membership in our Hall of Fame where people are honored strictly on their pro football accomplishments.

Sincerely,

Donald R. Smith
Director of Public Relations