Clyde Coffman Letter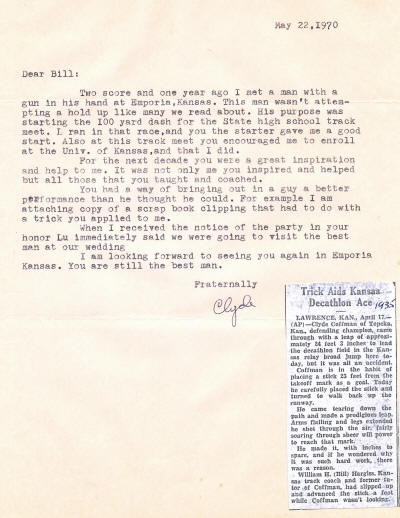 May 22,1970

Dear Bill:

Two score and one year ago I met a man with a gun in his hand at Emporia, Kansas. This man wasn't attempting a hold up like many we read about. His purpose was starting the 100 yard dash for the State high school track meet. I ran in that race and you the starter gave me a good start. Also at this track meet you encouraged me to enroll at the Univ. of Kansas, and that I did.

For the next decade you were a great inspiration and help to me. It was not only me you inspired and helped but all those that you taught and coached.

You had a way of bringing out in a guy a better performance than he thought he could. For example, I am attaching copy of a scrap book clipping that had to do with a trick you applied to me.

When I received the notice of the party in your honor Lu immediately said we were going to visit the best man at our wedding.

I am looking forward to seeing you again in Emporia Kansas. You are still the best man.

Fraternally,

Clyde

Trick Aids Kansas Decathlon Ace

LAWRENCE, KAN., April 17, 1935 (AP)—Clyde Coffman of Topeka, Kan., defending champion, came through with a leap of approximately 24 feet 3 inches to lead the decathlon field in the Kansas relay broad jump here today, but it was all an accident.

Coffman is in the habit of placing a stick 23 feet from the takeoff mark as a goal. Today he carefully placed the stick and turned to walk back up the runway.

He came tearing down the path and made a prodigious leap. Arms flailing and legs extended he shot through the air; fairly soaring through sheer will power to reach that mark.

He made it with inches to spare; and if he wondered why it was such hard work, there was a reason.

William H. (Bill) Hargiss, Kansas track coach and former tutor of Coffman, had slipped up and advanced the stick a foot while Coffman wasn't looking.

Notes:

Born: June 2, 1911 in Ford, Kansas, United States

Clifford Clyde Coffman competed in the decathlon in the 1932 Olympic games in Los Angeles and was an alternate for the games in 1936. He excelled in pole vaulting and, at 165 pounds, was referred to in a 1956 sports report as one of the greatest decathlon performers in American history, pound for pound.

Mr. Coffman, 89, died at a nursing home in Mesquite TX on March 4, 2001. Burial was at Grove Hill Memorial Park.