Fran Welch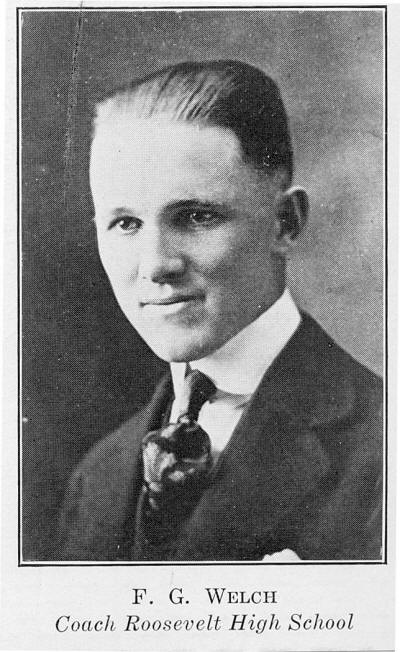 Welch on Hargiss (from "For the Sport of It', Fred A. Markowitz):
No one is more qualified to comment on Bill Hargiss' coaching than Fran Welch. He not only played under Hargiss for four years, but he was his line coach during the season of 1926 and '27, and he had assisted him in other coaching capacities since 1921.
"Imagination and initiative were two qualities that Bill Hargiss had in abundance," Welch stated. "He came up with strategy that other coaches hadn't thought about—he was creative. That is probably the biggest reason that Bill was such a successful coach. When he was coaching at the College of Emporia, he began adding his own touches to the old T-formation, and when he came to the Normal, he perfected these and added more. One of his fundamental beliefs was that a quarterback should have a lot of latitude. I always appreciated and admired this about Bill: If you had an idea, he'd let you work it out as a quarterback. That freedom gave me great confidence, just as it had given Art Schabinger a lot of confidence when he was playing under Bill at C. of E."
From Alumni Day May 1970 at KSTC (E.S.U.)
Francis G. (Fran) Welch has been associated with KSTC for more than five decades as student, athlete, teacher and coach. And during these 50 some years of association, Fran has become respected and loved--both locally and nationally--by all those lucky enough to be involved in that association.
Fran Welch came to the Kansas State Normal School in the fall of 1914 and quickly made his 133-pound presence known around campus. Football Coach Bill Hargiss installed him at quarterback where he remained until graduation four years later. Fran also displayed equal skill in baseball and basketball—earning 11 varsity letters during his career at KSN, before graduation in 1918.
Upon graduation, Mr. Welch joined the Army and served in the Army Ordnance Corps during World War I. Discharged with the rank of lieutenant, Fran returned to Kansas to earn a Bachelor of Science degree in agriculture. Four years later, he earned a Master of Science degree from the University of Wisconsin and did other graduate work at the University of Chicago.
In the early 1920s, Fran returned to Emporia to assist Bill Hargiss coaching football. He also taught courses in agriculture. When Hargiss left KSTC to coach at KU, Fran took over as director of athletics and coach of football and track. He continued in that capacity until 1955 when he turned football duties over to Keith Caywood, his assistant for several years. He continued as director of athletics until 1960 when he retired, but remained as KSTC track coach until 1965 when he left the KSTC faculty for complete retirement.
Fran Welch coached football at KSTC for 24 seasons and won 116 games, lost 81 and tied 15. But it was in the track and field area that he really left his mark.
In 1960, he was selected to coach field event participants of the Women's Track and Field Team representing America at the Rome Olympics. The previous year he had coached the women's field events when the American women's team met the Russian women athletes in a dual meet in Philadelphia and which later took part in the Pan American games.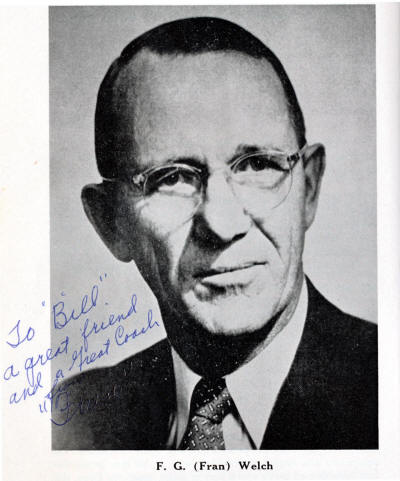 One of the first three coaches to be selected for the N.A.I.A. Track and Field Hall of Fame, Fran also served as president of the Missouri Valley Association of the A.A.U. and was on its rule committee for many years. He also served on the N.C.A.A. Track and Field Rules Committee and on the executive committee of the National Collegiate Track Coaches Association.
In 1965, Fran was elected to the Kansas All-Sports Hall of Fame. He was the 25th member selected to serve with such greats as Phog Allen, Glenn Cunningham, Bill Hargiss and James Naismith.
As KSTC track coach, Fran's teams were conference champs ten times, won four N.A.I.A. championships and placed second three times in 13 years of competition. Fran developed three N.C.A.A. individual champions and 13 individual N.A.I.A. champs.
On November 11, 1960, the KSTC athletic field was christened Francis G. Welch Stadium.
Fran and his wife Esther still live at 1714 Rural in Emporia. [deceased 1970]
Introduction for Fran Welch [MP3 audio file] Emery Cox delivers a tribute introduction to Fran Welch in Emporia, May 1970.
Tribute to Bill Hargiss May, 1970 [MP3 audio file] Fran describes to a large group his long relationship with Bill Hargiss, and attests to his football innovations: pulling linemen to run interference 1910, offensive huddle at OAC [now Oregon State], forward pass 1912, first quarterback [roll-out] option play 1910, and the defensive huddle in 1923 at KSTC, and a metal vaulting pole. Fran passed away 3 weeks after this talk.
Letter to Francis G. Welch Hargiss writes a published letter to Fran on the occasion of a stadium dedication to Fran at Emporia State U.
Letter from Francis G. Welch Fran expresses thanks to Lige Williams support on the stadium dedication at Emporia State University.
Hall of fame honors Induction into the Kansas All-Sports Hall of Fame
Fran Welch dies Fran Welch passes away in June 1970.