Glenn Cunningham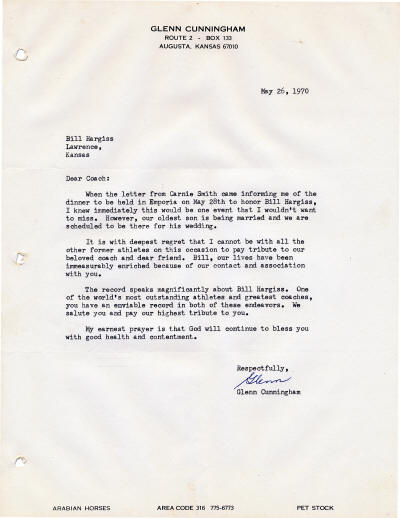 Letter
May 26, 1970
Bill Hargiss
Lawrence, Kansas
Dear Coach:
When the letter from Carnie Smith came informing me of the dinner to be held in Emporia on May 28th to honor Bill Hargiss, I knew immediately this would be one event that I wouldn't want to miss. However, our oldest son is being married and we are scheduled to be there for his wedding.
It is with deepest regret that I cannot be with all the other former athletes on this occasion to pay tribute to our beloved coach and dear friend. Bill, our lives have been immeasurably enriched because of our contact and association with you.
The record speaks magnificently about Bill Hargiss. One of the world's most outstanding athletes and greatest coaches, you have an enviable record in both of these endeavors. We salute you and pay our highest tribute to you.
My earnest prayer is that God will continue to bless you with good health and contentment.
Respectfully,
Glenn Cunningham
More on Glenn Cunningham: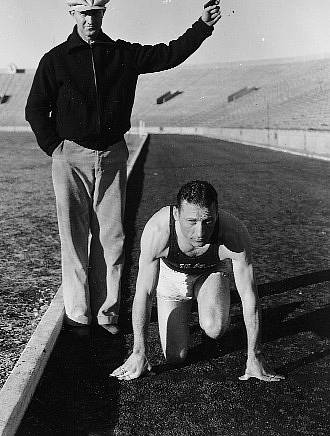 GLENN CUNNINGHAM: One of the earliest cross country greats to don the crimson and blue was Glenn Cunningham. A member of the KU Hall of Fame, Cunningham was a two-time Big Six Conference cross country champion, capturing the league crown in 1931 and 1932. Cunningham also excelled in track and field while at Kansas, breaking the world record in the indoor 1,500 meters (3:53.3) in 1934 and both the indoor mile (4:08.4) in 1932 and the outdoor mile (4:06.7) in 1933. During his tenure on the track at KU, he served as team captain in 1934 and won 12 conference championships: four indoor (1932-34, mile run and 1934,
880-yard run) and eight outdoor (1932-34: mile run; 1932-34: 880-yard run; 1933-34: two-mile run). In 1932 and 1933, Cunningham was the NCAA champion in the mile run, earning All-America accolades in the process. A two-time Olympian in the 1,500 meters (1932, 1936), Cunningham won the silver medal at the 1936 summer games in Berlin. In 1974, he became one of the first inductees into the National Track and Field Hall of Fame. In accordance with his early success, Cunningham's statue is located near the start of the course and the finish line at Rim Rock Farm is affectionately known as the Glenn Cunningham Finish.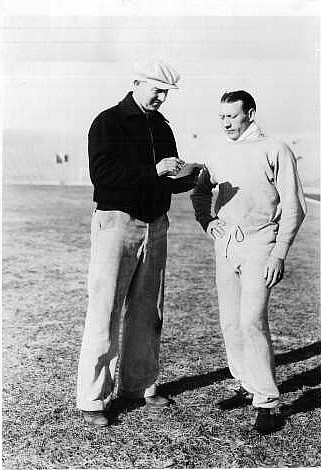 On right: Bill Hargiss and Glenn Cunningham on KU's track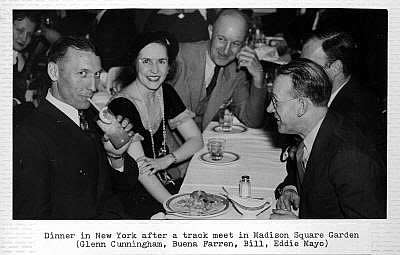 Right: Dinner in New York after a track meet in Madison Square Garden. (Glenn Cunningham, Buena Farren, Bill Hargiss, Eddie Mayo)