Arthur Schabinger Letter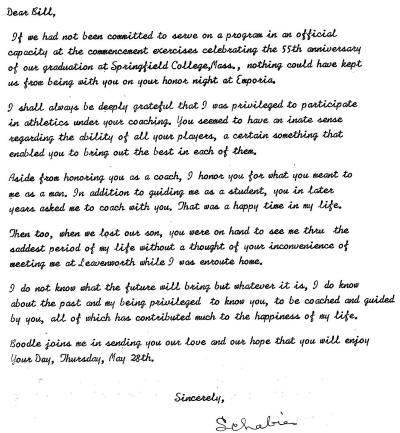 Dear Bill,
If we had not been committed to serve on a program in an official capacity at the commencement exercise celebrating the 55th anniversary of our graduation at Springfield College, Mass., nothing could have kept us from being with you on your honor night at Emporia.
I shall always be deeply grateful that I was privileged to participate in athletics under your coaching. You seemed to have an innate sense regarding the ability of all your players, a certain something that enabled you to bring out the best in each of them.
Aside from honoring you as a coach, I honor you for what you meant to me as a man. In addition to guiding me as a student, you in later years asked me to coach with you. That was a happy time in my life.
Then too, when we lost our son, you were on hand to see me thru the saddest period of my life without a thought of your inconvenience of meeting me at Leavenworth while I was en route home.
I do not know what the future will bring but whatever it is, I do know about the past and my being privileged to know you, to be coached and guided by you, all of which has contributed much to the happiness of my life.
Boodle joins me in sending you our love and our hope that you will enjoy Your Day, Thursday, May 28th.
Sincerely,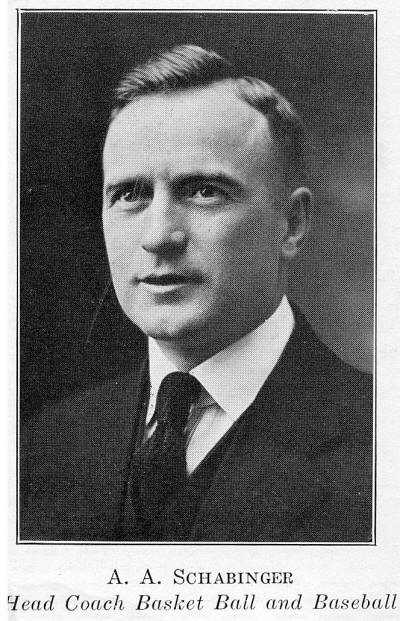 Schabie
more on Arthur Schabinger:
Fran Welch talks about Schabinger MP3 audio recorded in Emporia KA on May 28, 1970. Fran Welch describes the first use of the forward pass in football at the College of Emporia in 1910.
Arthur A. Schabinger (born August 6, 1889 in Sabetha, Kansas, USA; died October 13, 1972) was an American basketball coach and administrator. He coached college basketball for 20 seasons, including stints with Ottawa University, Emporia Teachers College and Creighton University. He was one of the founders of National Association of Basketball Coaches and the president of that organization in 1932. He authored the association's Constitution and By-Laws. He was enshrined in the Basketball Hall of Fame as a contributor in 1961.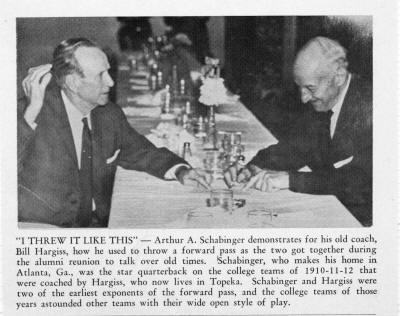 "I THREW IT LIKE THIS" — Arthur A. Schabinger demonstrates for his old coach, Bill Hargiss, how he used to throw a forward pass as the two got together during the alumni reunion to talk over old times. Schabinger, who makes his home in Atlanta, Ga., was the star quarterback on the college teams of 1910-11-12 that were coached by Hargiss, who now lives in Topeka. Schabinger and Hargiss were two of the earliest exponents of the forward pass, and the college teams of those years astounded other teams with their wide open style of play.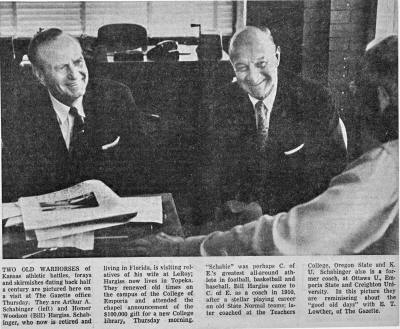 Article from The Emporia Gazette by E. T. Lowther, ca. early 1960s.
TWO OLD WARHORSES of Kansas athletic battles, forays and skirmishes dating back half a century are pictured here on a visit at The Gazette office Thursday. They are Arthur A. Schabinger (left) and Homer Woodson (Bill) Hargiss. Schabinger, who now is retired and living in Florida, is visiting relatives of his wife at LeRoy; Hargiss now lives in Topeka. They renewed old times on the campus of the College of Emporia and attended the chapel announcement of the $100,000 gift for a new College library, Thursday morning. "Schabie" was perhaps C. of E.'s greatest all-around athlete in football, basketball and baseball. Bill Hargiss came to C. of E. as a coach in 1910, after a stellar playing career on old State Normal teams; later coached at the Teachers College, Oregon State and K. U. Schabinger also is a former coach, at Ottawa U., Emporia State and Creighton University. In this picture they are reminiscing about the "good old days" with E. T. Lowther, of The Gazette.