Year-Old Clipping Key To 1930 Kansas Victory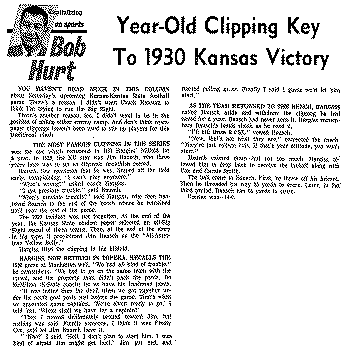 Topeka Capital sports column

YOU HAVEN'T READ MUCH IN THIS COLUMN about Saturday's upcoming Kansas-Kansas State football game. There's a reason. I didn't want Chuck Ransom to think I'm trying to run the Big Eight.
There's another reason, too. I didn't want to be in the position of aiding either enemy camp. And don't think newspaper clippings haven't been used to stir up players for this traditional clash.
THE MOST FAMOUS CLIPPING IN THE SERIES was the one which remained in Bill Hargiss' billfold for a year. In 1929, the KU star was Jim Bausch, who three years later was to set an Olympic decathlon record.
Bausch, fine specimen that he was, limped off the field early, complaining, "I can't play anymore."
"What's wrong?" asked coach Hargiss.
"I got prostate trouble," said Bausch.
"What's prostate trouble?" said Hargiss, who then banished Bausch to the end of the bench where he remained until near the end of the game.
The 1929 incident was not forgotten. At the end of the year, the Kansas State student paper selected an all-Big Eight squad of three teams. Then, at the end of the story in big type, it proclaimed Jim Bausch as the "All-American Yellow Belly."
Hargiss filed the clipping in his billfold.
HARGISS, NOW RETIRED IN TOPEKA, RECALLS THE 1930 game at Manhattan well. "We had all kind of trouble," he remembers. "We had to go on the same train with the crowd, and the property man didn't pack the pants. Bo McMillan (K-State coach) let us have his freshman pants.
"It was hotter than the devil when we got together under the north goal posts just before the game. That's when we appointed game captains. 'We're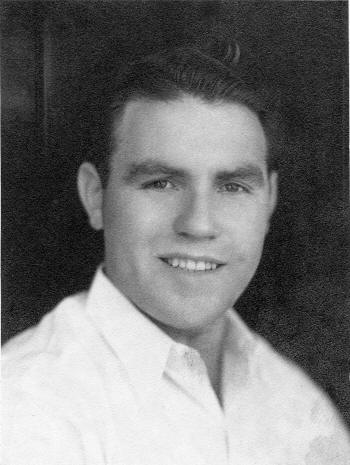 about ready to go,' I told 'em. 'Whom shall we have for a captain?'
"Then I moved deliberately around toward Jim, but nothing was said. Finally someone, I think it was Frosty Cox, said let Jim Bausch have it.
'Who?' I said. 'Hell, I don't plan to start him. I was kind of afraid Jim might get hurt.' Jim got red, and
started pulling grass. Finally I said I guess we'd let him start."
AS THE TEAM RETURNED TO THE BENCH, HARGISS called Bausch aside and withdrew the clipping he had saved for a year. Bausch had never seen it. Hargiss remembers Bausch's hands shook as he read it.
"I'll kill those &#$X," vowed Bausch.
"Now, that's not what they are," corrected the coach "They're just college kids. If that's your attitude, you won't start."
Bausch calmed downóbut not too much. Hargiss al- lowed him to drop back to receive the kickoff along with Cox and Carnie Smith.
The ball came to Bausch. First, he threw off his helmet. Then he threaded his way 95 yards to score. Later, in the third period, Bausch ran 60 yards to score.
Kansas won-14-0.