Track Coach Bill Hargiss In Football Back - '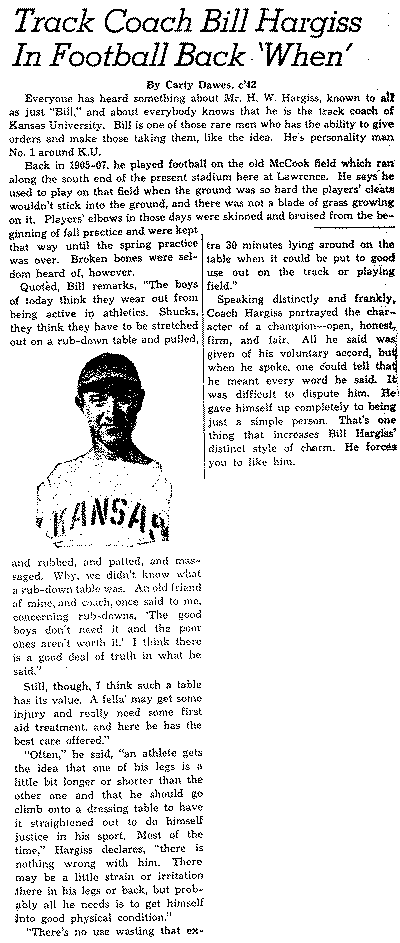 When'
By Carty Dawes, c'42
Everyone has heard something about Mr. H. W. Hargiss, known to all as just "Bill," and about everybody knows that he is the track coach of Kansas University. Bill is one of those rare men who has the ability to give orders and make those taking them, like the idea. He's personality man No. 1 around K.U.
Back in 1905-07, he played football on the old McCook field which ran along the south end of the present stadium here at Lawrence. He says he used to play on that field when the ground was so hard the players' cleats wouldn't stick into the ground, and there was not a blade of grass growing on it. Players' elbows in those days were skinned and bruised from the beginning of fall practice and were kept that way until spring practice was over. Broken bones were seldom heard of, however.
Quoted, Bill remarks, "The boys of today think they wear out from being active in athletics. Shucks, they think they have to be stretched out on a rub-down table and pulled, and rubbed, and patted, and massaged. 'Why, we didn't know what a rub-down table was. An old friend of mine, and coach, once said to me, concerning rub-downs, 'The good boys don't need it and the poor ones aren't worth it.' I think there is a good deal of truth in what he said."
Still, though, I think such a table has its value. A fella' may get some injury and really need some first aid treatment, and here he has the best care offered."
"Often," he said, "an athlete gets the idea that one of his legs is a little bit longer or shorter than the other one and that he should go climb onto a dressing table to have it straightened out to do himself justice in his sport. Most of the time," Hargiss declares, "there is nothing wrong with him. There may be a little strain or irritation there in his legs or back, but probably all he needs is to get himself into good physical condition."
"There's no use wasting that extra 30 minutes lying around on the table when it could be put to good use out on the track or playing field."
Speaking distinctly and frankly, Coach Hargiss portrayed the character of a champion—open, honest, firm, and fair. All he said was given of his voluntary accord, but when he spoke, one could tell that he meant every word he said. It was difficult to dispute him. He gave himself up completely to being just a simple person. That's one thing that increases Bill Hargiss' distinct style of charm. He forces you to like him.