KU Football Reunion 1930-1935
November 9-10, 1973
Former players from each of six University of Kansas Football teams during the early thirties gathered. November 9-10 at the Ramada Inn in Lawrence, Kansas for the first reunion of its kind in K.U. history.
Dick Sklar and Dean Nesmith made all the arrangements for the affair which was appreciated by those attending. Mrs. Sklar and Mrs. Nesmith were very capable assistants.
Twenty-seven former players and some wives were in attendance. Two of the coaches during the 1930-35 era, Bill Hargiss and Ad Lindsey, were special honored guests. Both received standing ovations when introduced to make brief speeches.
Festivities got under way with a cocktail hour followed by a buffet style dinner. When appetites were sated, Dick Sklar, master of ceremonies, started the after-dinner activities with a welcoming address. His remarks were aided by salient advice from the audience. This opening somehow set the tenor for most of the evening.
Following a moment of silent prayer for 28 known deceased teammates, each former player stood and introduced himself.
These informal speeches included information about his wife, children, grandchildren, livelihood since leaving K.U. and any other information he cared to pass along. Each speaker received "helpful comments and encouragement" from his former football comrades.
In addition to special guests, coaches Hargiss and Lindsey, other guests introduced included Mrs. Helen Lindsey and the Lindsey's daughter, Nancy, who was visiting from Alaska, and Mr. and Mrs. Jimmie Gillispie. Jimmie is the long-time public address announcer at the games and is a prominent official at the K.U. Relays each year.
After dinner and more cocktails, players and guests slowly dispersed to prepare for events the following day.
Saturday morning, the former gridders were up "bright and early" all set for the day's activities. Bloody Mary's were served as openers. A brunch followed. Between brunch and game time, several went sightseeing to catch up on the many changes that have taken place on campus and around the Lawrence area.
Shortly before the game, it was visiting time again while the group sat together awaiting the kick off. During a lull in the action, the former grid stars were introduced to the crowd as a group and stood for a round of applause. An enjoyable reunion ended when K.U. managed to hold on to a close 17-15 victory over Colorado.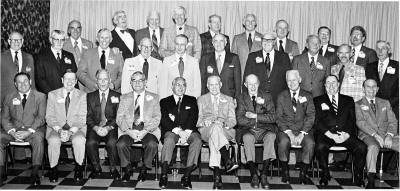 Front Row: Dick Sklar, Dean Nesmith, Cecil Smay, Tom McCall, Edwin Phelps, Coach Ad Lindsey, Coach Bill Hargiss, Ole Nesmith, Fred Harris, George Hapgood.
Middle Row: John Manning, Joe Zvolanek, Paul Minter, Dick Farris, Rodney Loughmiller, Buck Trombold, Milton Sorem, Lee Davis, Carroll Nickels, Elwyn Dees.
Back Row: James Burcham, Croft Bruening, Grant Barcus, Dave Lutton, Herman Mai, Ray Brinkman, Lewis Ward, Zonie Kvaternik, Frank Watkins.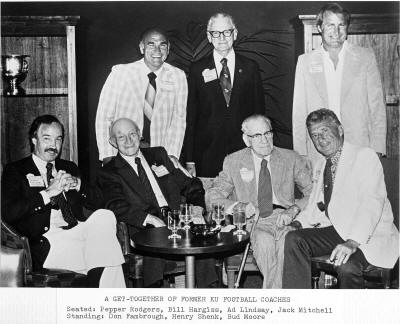 Seated: Pepper Rodgers, Bill Hargiss, Ad Lindsey, Jack Mitchell
Standing: Don Fambrough, Henry Shenk, Bud Moore