Board Names "Bill" Hargiss -- Head Coach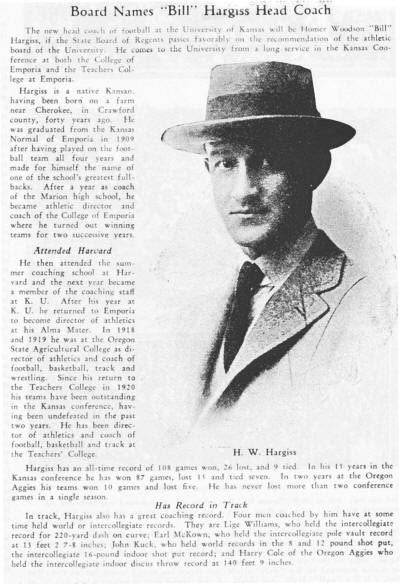 KU, December, 1927
The new head coach of football at the University of Kansas will be Homer Woodson "Bill" Hargiss, if the State Board of Regents passes favorably on the recommendation of the athletic board of the University. He comes to the University from a long service in the Kansas Conference at both the College of Emporia and the Teachers College at Emporia.
Hargiss is a native Kansan. having been born on a farm near Cherokee, in Crawford county, forty years ago. He was graduated from the Kansas Normal of Emporia in 1909 after having played on the football team all four years and made for himself the name of one of the school's greatest fullbacks. After a year as coach of the Marion high school, he became athletic director and coach of the College of Emporia where he turned out winning teams for two successive years.
Attended Harvard
He then attended the summer coaching school at Harvard and the next year became a member of the coaching staff at K.U. After his year at K.U. he returned to Emporia to become director of athletics at his Alma Mater. In 1918 and 1919 he was at the Oregon State Agricultural College as director of athletics and coach of football, basketball, track and wrestling. Since his return to the Teachers College in 1920 his teams have been outstanding in the Kansas conference, having been undefeated in the past two years. He has been director of athletics and coach of football, basketball and track at the Teachers' College.
H. W. Hargiss Hargiss has an all-time record of 108 games won, 26 lost, and 9 tied. In his 15 years in the Kansas conference he has won 87 games, lost 15 and tied seven. In two years at the Oregon Aggies his teams won 10 games and lost five. He has never lost more than two conference games in a single season.
Has Record in Track In track
Hargiss also has a great coaching record. Four men coached by him have at some time held world or intercollegiate records. They arc Lige Williams, who held the intercollegiate record for 220-yard dash on curve; Earl McKown, who held the intercollegiate pole vault record at 13 feet 2 7-8 inches; John Kuck, who held world records in the 8 and 12 pound shot put, the intercollegiate 16-pound indoor shot put record; and Harry Cole of the Oregon Aggies who held the intercollegiate indoor discus throw record at 140 feet 9 inches.