Bill Hargiss: A Noble Coach
Sports in Depth by Roy Miller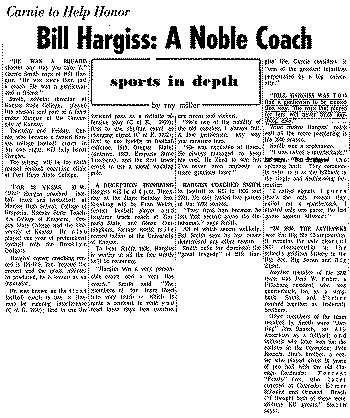 "HE WAS A SQUARE shooter any way you take it,' Carnie Smith says of Bill Hargiss. "He was more than just a coach. He was a gentleman and a friend."
Smith, athletic director at Kansas State College, played two seasons and part of a third under Hargiss at the University of Kansas.
Thursday and Friday, Carnie, who became a famed Kansas college football coach in his own right, will help honor Hargiss.
The setting will be the ninth annual football coaching clinic at Fort Hays State College.
"FOR 28 YEARS, H. W. "Bill Hargiss coached football, track and basketball at Marion High School, College of Emporia, Kansas State Teacher's College of Emporia, Oregon State College and the University of Kansas. He also played one year of professional football with the Brooklyn Dodgers.
Hargiss' career coaching record is 124-47-9. But, beyond the record and the great athlete he produced, he is known as an innovator.
He was known as the first football coach to use a line man for running interference
(C of E, 1910); first to use the forward pass as a definite offensive play (C of E, 1910); first to use rhythm count as charging signal (C of E, 1912); first to use huddle in football (offense, 1919, Oregon State) (defense, 1923, Emporia State Teachers), and the first track coach to use a metal vaulting pole.
A RECEPTION HONORING Hargiss will be at 8 p.m. Thursday at the Hays Holiday Inn.
Speaking will be Fran Welch, former football player and longtime track coach at Emporia State, and Glenn Cunningham, former world mile record holder at the University of Kansas.
To hear Smith talk, Hargiss is worthy of all the fine words he'll be receiving.
"Hargiss was a very personable coach and a very fine coach," Smith said. "The
members of the team liked him very much — which is quite a contrast to what you read these days how coaches are mean and vicious.
"He's one of the nobility of the old coaches, I always felt. A fine gentleman, any way you measure him.
"He was excitable at times. He always managed to keep his cool. He liked to win but I've never seen anybody a more gracious loser."
HARGISS COACHED SMITH in football at KU in 1930 and 1931. He only lasted two games of the 1932 season.
"They fired him because he lost that second game (to Oklahoma)," says Smith.
All of which seems unlikely. But Smith says he has never determined any other reason.
Smith calls the dismissal the "great tragedy" of Bill Hargiss' life. Carnie considers it "one of the greatest injustice perpetrated by a big university."
"BILL HARGISS WAS TOO fine a gentleman to be treated that way. The boys that played for him will never think any thing else."
What makes Hargiss' quick exit all the more perplexing is his 1930 season.
Smith was a sophomore.
"I was called a quarterback, he says. "But I played the spinning back. They commonly refer to it as the fullback in the single and double-wing formation.
"I called signals. I guess that's the only reason they called me a quarterback. l started only one game, the last game against Missouri."
"IN 1930, THE JAYHAWKS won the Big Six Championship. It remains the only clear-cut
KU championship in the school's gridiron history in the Big Six, Big Seven, and Big Eight.
Another member of the 1930 team was Paul W. Fisher, a Pittsburg resident, who was quarterback, too, as a wing-back. Smith and Fisher roomed together as fraternity brothers.
Other members of the team recalled by Smith were "Jarring" Jim Bausch, an All American as a fullback and tailback who later won the decathlon in the Olympics; Pete Bausch, Jim's brother, a center who played about 10 years of pro ball with the old Chicago Cardinals; Forrest "Frosty" Cox, who later coached at Colorado; Elmer Schaake and Ormand Beach ("I thought both of these were all-time KU greats," Smith says).