Coaching change 1932

The Oklahomans came to Kansas on October 8. They gave Kansas a sound drubbing, going home with a 21 to 6 victory. The Athletic board got their heads together, as a result, and decided Adrain Lindsey should replace Bill Hargiss to head the Varsity coaching staff. Bill Hargiss was surprised and hurt, but didn't protest.
Someday, perhaps, the familiar expression will be amended to: "Nothing is as American as hot dogs, apple pie and firing the coach."
As often as the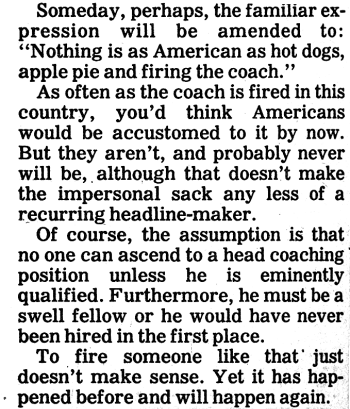 coach is fired in this country, you'd think Americans would be accustomed to it by now. But they aren't, and probably never will be, although that doesn't make the impersonal sack any less of a recurring headline-maker.
Of course, the assumption is that no one can ascend to a head coaching' position unless he is eminently qualified. Furthermore, he must be a swell fellow or he would have never been hired in the first place.
To fire someone like that just doesn't make sense. Yet it has happened before and will happen again.